Dementia Services - Cogs Club (Brainwaves)
Coronavirus Pandemic
Our clubs are closed but with restrictions being lifted, we are looking to restart them soon. Please call us at 01442 259049 if you are interested in joining. Currently, we are supporting our clients with telephone calls, zoom meetings, providing activity packs and garden visits (when permitted).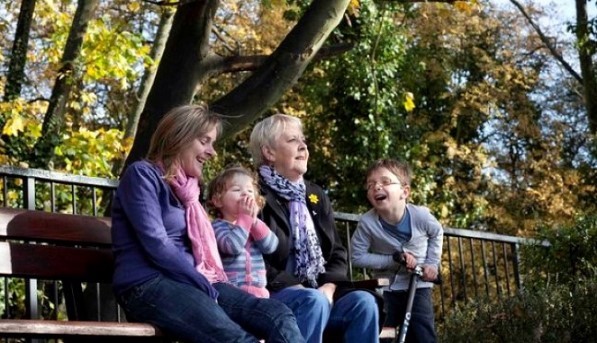 What is a Cogs Club?
Cogs Clubs are weekly sessions for people with mild to moderate dementia. They provide five hours of social activity and friendship through a combination of cognitive stimulation, music, reminiscence and orientation. Each session follows a familiar pattern and the 14 themes of CST are rotated.
Cogs Clubs are not day centres but a place where people with dementia can go to spend a structured day of stimulation and learning. The key principles of Cogs mirror those of CST – person-centred approaches, respect, inclusion, choice and fun. With between 10 and 16 members and three or four facilitators and helpers, Clubs have a 'family feel' and allow each person to participate actively.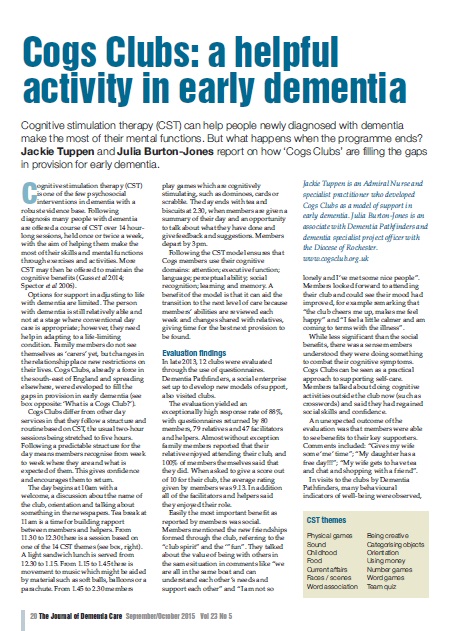 Read More from

Cogs Clubs: a helpful activity in early dementia. Tuppen J, Burton - Jones J Journal of Dementia Care 23 (5) 20-21
Our Cogs Club (Brainwaves) has been set up to help people experiencing problems with their memory.This club aims to encourage members to participate in purposeful activity in order to develop or maintain active minds.
We have five Cogs Clubs in Dacorum. The clubs are modelled on Cognitive Stimulation Therapy (CST) and are specifically for people with mild to moderate memory problems/ dementia. Clubs are held weekly in Aldbury, Berkhamsted, Tring and Hemel Hempstead.
Cognitive Stimulation Therapy is a programme of structured activity sessions for small groups of people with dementia. Research has shown it works as well as, if not better than, medication. Investigation has also shown that exposure to music and other arts can help people with dementia reconnect with themselves and even slow down the rate of their illness.
Our Cogs Clubs offer the opportunity for people with dementia to have enjoyable experiences and good times. They crucially also provide carers with an opportunity to have someone to confide in and to take a significant break in their day.
Our aim is for people with dementia and their carers to have choice and control as well as remaining independently in their own homes for as long as possible.
The day is from 10am to 3pm once a week for as long as a member can benefit from the stimulation. It provides the opportunity for them to recall or develop new skills in activities and to facilitate the transfer of these skills to activities at home.
Refreshments light lunch/snack, tea and coffee are provided all included in the cost of the day. Fun is the key component of the day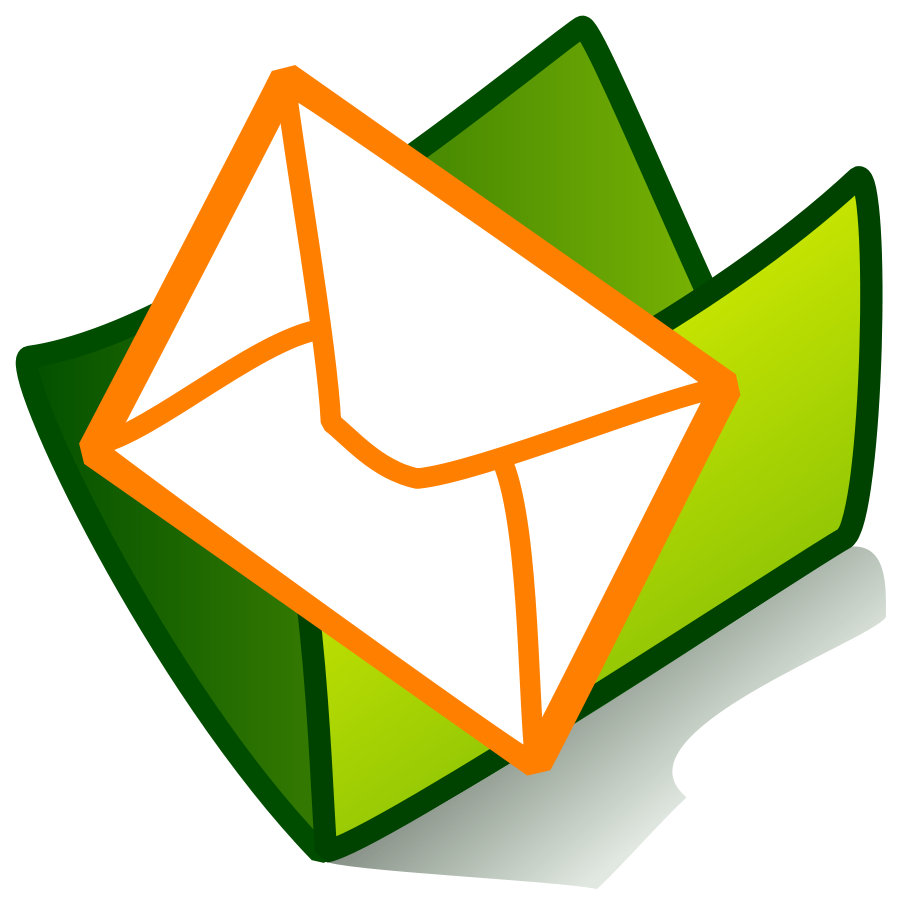 From time to time we receive emails and letters from our clients and their family members commenting on our services. We want to share some excerpts from the emails with you.
Every Monday Aldbury
Aldbury Memorial Hall
Toms Hill Road
Aldbury
Herts
HP23 5RR
10am - 2.30pm
.
Every Tuesday Hemel Hempstead
Two Beeches
Avon Square, Grove Hill
Hemel Hempstead
HP2 6AU.
10am - 3pm
.
Every Thursday Berkhamsted
Residents Lounge
Lagley House
Douglas Gardens
Berkhamsted
HP4 3PE
10am - 3pm
.
Every Friday Tring
Pond Close Sheltered Housing
High Street
Tring
Herts
HP23 5BE
10am - 2.30pm
.
Every Saturday Bennetts End
Residents Lounge
Gatecroft
Leys Road
Bennetts End
HP3 9LY
10.30am - 3pm
.
Other information you may find useful
Memory Loss Support
Carers' Support
Memory Loss - Communication tips
How to communicate with someone with memory loss. Creating a good atmosphere.