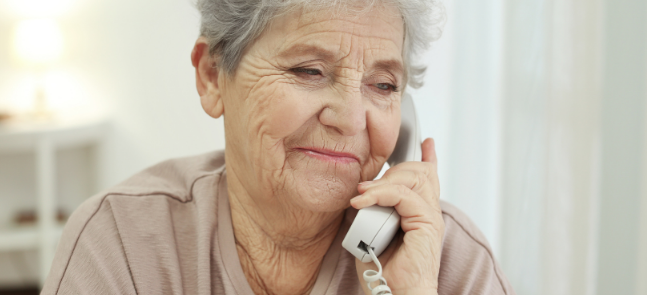 Our Telephone Club provides friendship and support for older people who are housebound or do not want a volunteer to visit them.
How it works?
A member of staff will phone on a weekly or fortnightly basis. More frequent calls will be made if there is a need for more support, for example if clients have had a stay in hospital.
During our regular calls we will provide a listening ear, offer support, and give appropriate suggestions for assistance from other organisations if necessary.
Who can make Referrals?
Referrals can be from individuals, family, friends, neighbours, or professionals.
Is there anyone who can't use our Telephone Club?
Our Telephone Club may not be as helpful for people with memory loss, dementia or mental health issues who need a higher-level support. These conditions may affect the person's ability to build a friendship and, in some instances, people with these conditions may actually find our calls more distressing.
If this applies to you or someone you know, we'll be happy to try to help you find a local service which may be able to support you better.
Testimonial:
Here is a message we received from Harriet, a telephone club client since July 2020
"When I first joined the telephone club, I did think it would be quite ridiculous building a relationship on the phone but now, I feel I have found a friend. It's so unlike me to make friends on the phone but I find myself looking forward to Thursdays when I get my call. One of the things I like is the way we can talk about so many different things."
Harriet, 81, is a widow who lives alone in Tring. (All names have been changed)
Contact us
If you would like to be referred or know of someone who could benefit from our Telephone Club, please get in touch online, call 01442 259049 or email alex.labern@ageukherts.org.uk