We run 2 Walking Football programs; one in partnership with Hemel Hempstead FC and one with Apex 360.
Apex 360

Come join our Walking Football for over 55s with Apex 360
Tuesday Evenings
Starts 3rd August 2021
6.00pm - 7.00pm
Venue: Grovehill 3G Football Pitch
GroveHill Adventure Playground, Redbourn Road Hemel Hempstead HP2 7BA (large free car park)
The Beautiful Game you love - played in a new way. Smaller teams, simple rules but still big on fitness, friendship and fun.
Sessions are currently FREE!
Book online to reserve your space & pay at the gate
FREE light refreshments
BOOK ONLINE @ apex360.co.uk/bookings
To select and book please choose 'Grove Hill Adventure Playground - Football Pitches' in the drop-down menu 'Filter by venue/view all'
Please note, NO Shower OR changing facilities on site.
This Walking Football session is run in association with Apex 360, Herts Sports Partnership and Hertfordshire FA. The games are led by an Apex host who will organise small-sided matches for up to 50mins for you to get involved in.
Hemel FC
Walking Football for over 50s with Hemel FC
Weekly
Venue: Hemel Hempstead Town Football Club
Vauxhall Road, Hemel Hempstead, Herts HP2 4HW
Come and join us at Vauxhall Road on The Tudor's all-weather 3G Astroturf training facility.

More Information: Hemel Town Football Club Happy Feet Walking Football
For queries please contact Club Secretary Dean Chance: 07858 990550; secretary@hemelfc.com
Participants will be required to complete a registration form which will include a general medical and fitness questionnaire; players need to attend equipped with their own medication (if applicable), kit and footwear appropriate for AstroTurf.
What is walking football?
Walking football has become increasingly popular. 'It's exactly what it sounds like – a standard game of football where players walk instead of run.' It is designed to help people get fit or maintain an active lifestyle no matter what their age and fitness, as well as support people getting back into football if they have given it up due to age or injury.
Older people who play have seen many benefits: lower heart rate and blood pressure, less fat and more muscle along with better mobility.
And it's not just health benefits - Walking football also offers social benefits. Participants can meet new people, avoid becoming isolated, and interact with individuals and small groups. A sporting activity that is suitable for all.
Social Media and News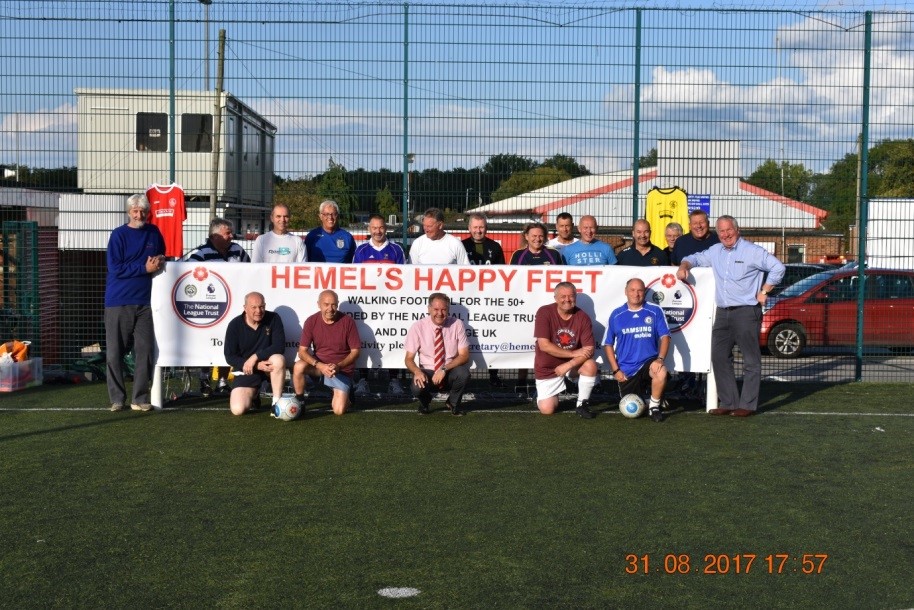 Inauguration of Hemel's Happy Feet Walking Football Read More