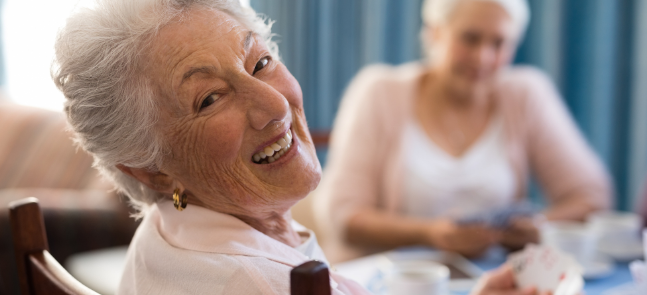 Young at Heart Clubs (previously known as Active Living Clubs) are social clubs for older people to meet and take part in a range of activities.
Reopening of Clubs
We are in the process of reopening our clubs and are working with Dacorum Borough Council and Hertfordshire County Council to put in place plans to open and run them in a controlled and safe way.
If you are interested in joining a club or would like to be informed when a club near you is reopening, please call Bernice at 01442 259049 or email her at Clubmanager@ageukdacorum.org.uk
What activities do we do?
Quizzes
Bingo
Board games
Craftmaking
Entertainment
Exercise sessions
Pub lunches
Outings and visits to garden centres, places of interest, etc.
Our Clubs are supported by teams of friendly staff and volunteers.
Where do they take place?
The clubs are held in Hemel Hempstead, Berkhamsted and Tring ( Locations listed below).
Club Days and Venues

The clubs are held on the following days in Dacorum (Please click on each day for the addresses and location of the clubs):
Monday
YAH Florence Longman Club
The Lounge
Florence Longman House
Weymouth Street
Apsley
HP3 9SN
(10.00am - 12noon weekly)
.
Tuesday
YAH Old House Road
Old House Road
Hemel Hempstead
HP2 4DW
(2.30pm-4.30pm) (1st Tuesday of every month)
YAH Holly Tree Court
Holly Tree Court
Hemel Hempstead
HP2 4XY
(2.30pm - 4.30pm) (3rd Tuesday of every month)
Wednesday
YAH Phyllis Courtnage Club
The Lounge
Phyllis Courtnage House
Smithfields
Hemel Hempstead
HP2 5YN
(10.00 am - 12noon weekly)
Thursday
YAH Betty Patterson Club
Betty Patterson House
Astley Road
Hemel Hempstead
HP1 1XA
(10.00am - 12 noon)
YAH Douglas House/ Lagley Gardens
Douglas Gardens
Berkhamsted
HP4 3PE
(10:00am - 12noon weekly)
Interested in our clubs?
If you are interested or have any queries please contact our Club Manager Bernice by calling 01442 259049 or email clubmanager@ageukdacorum.org.uk or get in touch online.