Christmas with Age UK Lambeth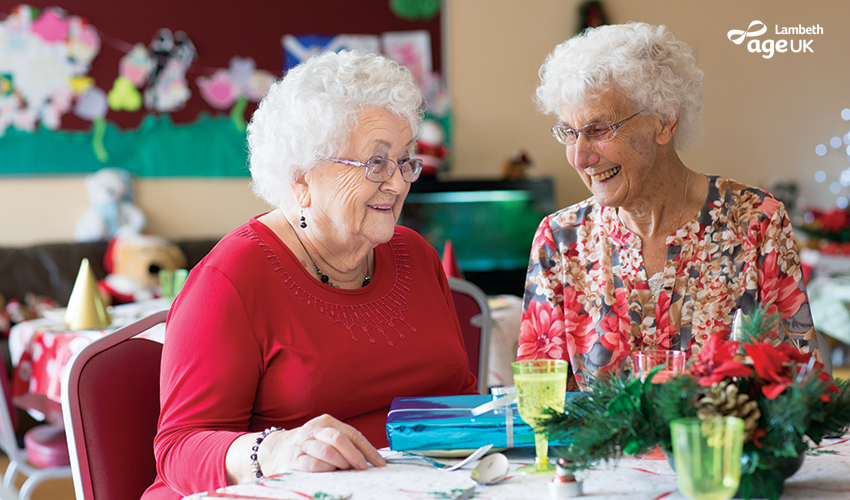 Published on 15 November 2017 09:53 AM
The office is split into two camps at the moment. The Christmas lovers and the Christmas haters. Some of are wanting decorations and a tree put up in early November, and there are some of us a wee bit more Bah Humbug!!

Whatever your views on Christmas, at Age UK Lambeth we know that it can be a difficult time for some of our most lonely older citizens. Over 80,000 older people across London will spend Christmas on their own.

So we try our best to make things better.

And to do that, we need your help.
Christmas Day
Following on from the success of last year, we are once again putting on a Christmas day lunch for 40 of Lambeth's most isolated elders. And this year we want to do a bit more. We want to deliver meals to 20 older people who are not able to join us.
That means we need volunteers to drive, cook, entertain and host. It means we need money and donations to provide the meal itself.
Want to help? Email graham@ageuklambeth.org
Party, Party, Party
Thanks to the generosity of Bloomberg's (now fully booked), Bank of America (happening on 13th December) and POP! Brixton (19th December), our clients have some amazing opportunities to party this Christmas! If you know someone who deserves a good Christmas party why not book them onto one of the parties. Have a look at the MYsocial calendar at www.mysocial.london or drop the team an email at hello@mysocial.london

MYsocial also has a number of events happening over the Christmas period. Membership is free and open to all ages, so why not join up, make new friends and do things that make you happy!
Get Involved
None of these wonderful Christmassy things would happen without a pile of folk willing to get involved and help out. MYsocial is always looking for hosts for events, Parties need folk willing to get lead people onto the dancefloor and Christmas Day... well, that's a big effort.

For Christmas Day we need Drivers, Cooks, Waiting Staff, Washer Uppers, Clearer Uppers and definitely Entertainers! (Let's spare people from Graham and his guitar!).
We also need food, drinks and presents for 60 people.
If you think you can help in any way, drop Graham an email: graham@ageuklambeth.org
Give
To make all of this happen we also need some money! We want our Christmas Day to be amazing. It would be fantastic if you are able to help us with a donation small or large!
And like last year, if we raise more than we need for Christmas Day we will use the money to provide events all year round. This year MYsocial have been able to have some amazing events- think Reggae Party at The Hideaway in June - because of your generosity last Christmas. To donate to our Christmas Campaign go to https://www.justgiving.com/campaigns/charity/auklambeth/nooneshouldhavenoone2017
If you know a senior citizen who lives in Lambeth and will be on their own on Christmas Day and wish to get them involved, please call us on 020 7346 6800 or email us on info@ageuklambeth.org.uk