Making friends - Dave & Martin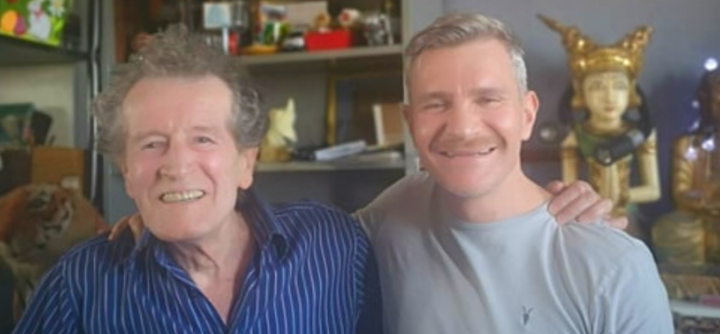 Published on 24 July 2019 04:48 PM
Meet one of our befriending pairs, Dave and Martin. They have been matched for about a year now and we caught up with them to see how it is going and what they like about befriending!
What made you want to volunteer as a befriender for Age UK Lambeth?
Martin - I wanted to give something back to the community. I've done a lot of partying and having a good time in London - so I wanted to give something back! My family live up North and my own grandparents have passed away - I really loved them and missed them, so I was interested in having that kind of relationship again.
How were you feeling before Martin started visiting you? What made you decide that you wanted to have a befriender come to visit you?
Dave - I've had a very sheltered life following my cancer operation and recovery. I get self-conscious about going out; I was anxious about going into hospital for reconstructive surgery, as I knew I would have no visitors. It's been 10 years since my diagnosis, and I was so bored day after day - so little happened. Most people I know around here have died or moved, I used to know everyone!
How did you feel when you heard you had been matched with someone? Were you nervous? Excited?
Martin - I was relieved mostly! I'd mentioned I'm gay as I thought some older people might have an issue with it.
Dave - I was relieved that some thought had been put into the matching process, I was pleased to be socialising with someone else who was gay.
How was your first visit? What happened?
Dave – I've always been quite nervous and on edge when meeting new people – so I was quite nervous waiting!
Martin – I was quite nervous as well! At first, we were quite polite with one another and unsure of what to say. But we quickly got to know each other and relaxed – it's totally different now.
Dave – My mind was put at rest that all the befrienders are checked out by Age UK Lambeth. I've been conned in the past so that was a big concern.
What kind of things do you do together during your visits?
Dave – We went to the theatre recently to see Les Mis. It was my first time going to the theatre in 5 or 6 years. It's the longest I've been out since the operation. My eyesight is quite bad, especially in the dark, so it was great to have someone with me up in the Gods – it's like a cliff edge up there! We're hoping to see Fiddler on the Roof next.
Martin – Yeah, we saw an advert for that when we were going to Les Mis. We've been to a few places; Battersea Park, Chelsea Physic Garden. Dave likes the idea of going out but can't always, so we try and plan things like that well in advance. Usually, we just stay in and chat, have something to eat together.
Is befriending what you expected? Or has anything surprised you?
Dave – We get on! It's how I hoped it would be.
Martin – It's like having another friend, but with a totally different perspective. Although sometimes, you end up having more in common on things than you think you will!
Dave – The conversations just flows. We have lots of common ground.
What difference has befriending made to your life?
Dave – I'm a lot happier, and feel a lot less isolated. I feel better about being at home. Lots of people I knew in the block have moved away after knowing them for years – it's really good to have a visitor.
What would you say to someone who was thinking about volunteering as a befriender?
Martin – Do it! It's really nice to have a different perspective on your life, especially as a younger person, as you don't get the same outlook from your friends. It's like a therapy session sometimes! Especially if you're living away from your family in London. It's not all about giving back – you get a lot too. Someone who cares about me and that I can talk to.
Are you inspired by Dave and Martin's story?
Become a volunteer befriender today and we can match you with an older person that needs your help. We ask for a regular commitment of one hour a week!