Making friends - Margaret and Amber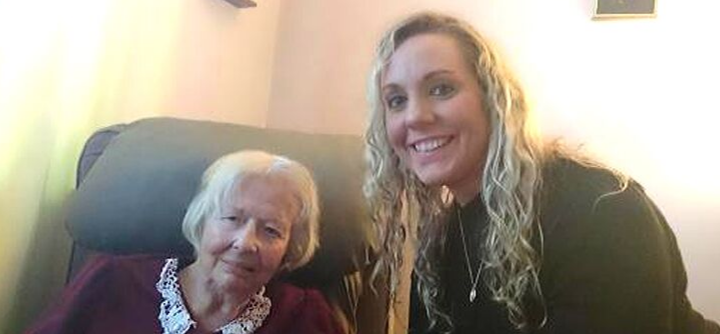 Published on 16 September 2019 11:07 AM
Meet one of our befriending pairs, Margaret (left) and Amber (right). They have been matched for about four years now and we caught up with them to see how it is going and what they like about befriending!
What made you want to volunteer as a befriender for Age UK Lambeth?
Amber - I moved to London in 2015 - I volunteered for a local charity before I moved. When I came to London I wanted to do something like that again, something meaningful. I had no friends or family in London, so I thought it would be a good way to make a new friend!
How were you feeling before Amber started visiting you? What made you decide that you wanted to have a befriender come to visit you?
Margaret - I thought it would be nice to have someone come to see me.
How did you feel when you heard you had been matched with someone? Were you nervous? Excited?
Margaret - I didn't know what to expect. I just thought, `This will be interesting - we'll see!'
Amber - I was excited but didn't know what to expect or what it would be like. I didn't think it would be so easy - you just start coming over and having a chat, and before you know it, you're friends.
How was your first visit? What happened?
Margaret - It was a long time ago! We just chatted at first.
Amber - Margaret has a huge family, including lots of great-grandchildren and now a great-great-grandchild! So she told me all about her family. The time since then has flown by though! I used to live literally around the corner from Margaret, so it was great to just be able to pop by.
What kind of things do you do together during your visits?
Margaret - We watch lots of TV together. At the moment we're watching tennis, but Pointless is our favourite! We chat and catch up about our families. I have so many birthdays to remember! Sometimes Amber helps me write my birthday cards for the family.
Amber - Margaret broke her hip at the start of this year, so she has carers in and doesn't get to leave her chair much. It's nice to be able to chat over a cup of tea together.
Do you think your relationship has changed since you first met?
Amber - We've got to know one another much better.
Margaret - I've had to go into hospital a few times, and Amber's been able to visit me.
Is befriending what you expected? Or has anything surprised you?
Margaret - It's just nice to see a young person - I was surprised that she liked visiting me!
Amber - The biggest thing for me is how enjoyable it is, and that it is a real friendship. I was surprised by how much I enjoyed it. I no longer think of coming to see Margaret as a volunteer for Age UK Lambeth - I see Margaret every week because she's my friend.
What difference has befriending made to your life?
Margaret - I enjoy seeing Amber. My family can't always come over, and having someone to talk to means it isn't so lonely. It's nice to have someone come over just for me.
What would you say to someone who was thinking about volunteering as a befriender?
Amber - It's easy, enjoyable, and you can put in as much time as you both want - it's really flexible to both your schedules. And it's a friendship, not a chore - it's a win-win.
Are you inspired by Margaret and Amber's story?
Become a volunteer befriender today and we can match you with an older person that needs your help. We ask for a regular commitment of one hour a week!