MYsocial Digital Festival
Published on 27 August 2020 02:23 PM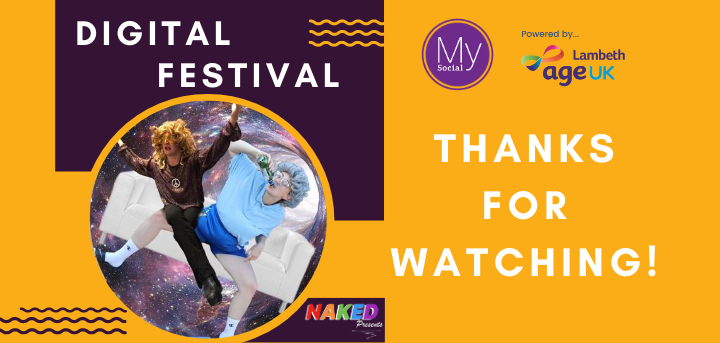 Looking back on the last few months MYsocial has no doubt marked their very successful digital festival as one of their highlights and this is simply because of the ability the festival gave MYsocial in keeping their community engaged and connected regardless of Age and/or Disability. The virtual Digital Festival created a space where disability or even computer literacy couldn't be a hindrance and here is how.
The Digital Festival started as a simple idea from Age UK Lambeth's CEO of wanting to promote what MYsocial does, and keeping a light buzz that could extend beyond Lambeth during the Covid-19 pandemic. Alex, who had just recently joined the MYsocial team, then founded the idea of the Digital Festival.
Alex found this to be "very challenging but also very rewarding". Coming from a background of hosting events in her previous job to doing the same online didn't seem to be quite so straightforward. Alex had to learn what the best streaming platforms would be and which ones would allow her to invite her artists as well as showcase their talent. Facebook and Stream Yard were the platforms Alex found best to use. Viewers would log onto Facebook Live and Alex had the acts streaming via Stream Yard.
The Digital Festival did exactly what it set out to and boosted morale during Lockdown. MYsocial members were taught and became efficient in using Facebook and learned how to interact through leaving comments. Those members that didn't have Facebook or still had some software issues were given access through live streaming on zoom. The Highest amount of views the festival saw was 1200 during Sharon and Keith's- The Lockdown but weekly the festival saw an average of 500 views which Alex admits made her nervous every week but was pleasantly rewarded with how these 500+ viewers interacted with one another and the acts every week. The artists were constantly complemented and Alex herself was even told she looked like a mermaid. "It was just great being able to cater for every level of computer literacy and it was amazing to have a range of ages watching and loads of non members" says Alex.
Luckily the finding of the acts was the easiest part for Alex. There was an amazing response to the call outs for artists and Alex also had a logbook of personal artists she could contact and that were recommended to her.
All our "acts would love to come back and perform… we have the ageless day festival coming up later this year and MYsocial would be more than happy to invite a few of these acts to join us again. One of the acts said they would do it for free because it was such a good cause".
With the success of Digital Festival, MYsocial has now gotten their name out and created some of the partnerships they had hoped for. Moving forward MYsocial are excited to be hosting more one off events such as Dj Nights and Desert Island Discs. "The festival has given us the confidence to be more adventurous" says Alex. The MYsocial website has a list of every show and gives you the option to become a member which gives you exclusive access to member only events and shows.
Overall, the pandemic gave MYsocial the opportunity to capitalize on increasing computer literacy in the older community and for those that are unable to leave the house. For some people in the UK, the Lockdown wasn't any different to their everyday lives because their disabilities and age perhaps didn't, and still doesn't allow them to leave the house so these individuals were given an opportunity to be more engaged and connected. Pandemic or no pandemic this is what MYsocial is about and always hopes to be about.
If you didn't manage to see any of the artists here are the links to each performance:
SamSam BubbleMan:
https://www.facebook.com/MYsocialLambeth/videos/291513958884662
The old time Rags:
https://www.facebook.com/MYsocialLambeth/videos/279493999835954
Miss Jones:
https://www.facebook.com/MYsocialLambeth/videos/268184597948039
Sharon & Keith The Lock down:
https://www.facebook.com/MYsocialLambeth/videos/369595130677030
Dj Rev, Turner of Decadent Times:
https://www.facebook.com/MYsocialLambeth/videos/3208738982546636
Modupe:
https://www.facebook.com/MYsocialLambeth/videos/289579895686441
Christopher Gee:
https://www.facebook.com/MYsocialLambeth/videos/646346995982487