Our new normal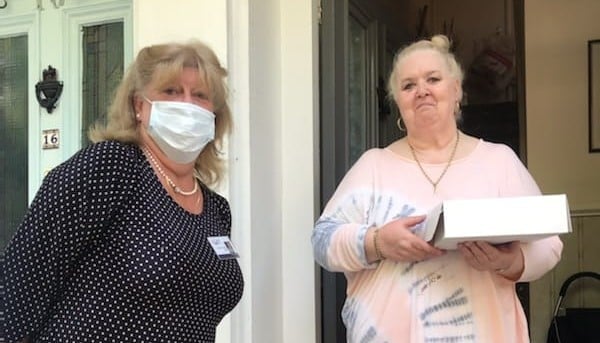 Published on 01 July 2020 10:16 AM
And just like that, we have a new normal! Just like many other organisations, Age UK Lambeth found ourselves having to radically reshape and change everything we normally do. It started simply enough by ceasing home visits and face to face appointments but we soon realised that the changes needed to be a bit more drastic. We've since left our usual office space and have decamped to Vida's on Saltoun Road, with most staff working from home.
For the first few weeks, our Gateway support line took hundreds of hours of calls from people wanting information, advice, support and reassurance. They have now answered over 5275 calls since COVID started and made over 750 calls out. Our Handyfix team and a group of over 150 volunteers found themselves doing shopping all day long, making sure that some of the Borough's most vulnerable got the food and supplies they needed. It did become a bit overwhelming, and to say we were pleased when the Council and the Lambeth Food Partnership stepped in is an understatement. Now, not only has the Handyfix team resumed their normal range of jobs such as fitting shelves, key safes, moving furniture and other odd jobs around the house, they now offer a cleaning and gardening service.
We have had some amazing feedback from our services, which has made our jobs all the more rewarding;
"…She spoke to Kevin on a Sunday, and on the Monday Kevin showed up. He said "we will be with you in half hour" but was there in 10 minutes. She wasn't expecting it to come so quickly and was really surprised. He fitted grab rails around side of house to enable her to access her garden. She said: thank you so much, I didn't expect it to be done so quickly. I was particularly impressed by how caring they were, they made sure it was all levelled out and everything unsafe was cleared away. They were so very nice and caring. I didn't even notice how hazardous it might be but he took the time to make me aware of that and advise me. I am so impressed by your kindness. Truly impressed, never had anything to do with them before, and thought well if this is the way they operate, I'll certainly recommend them – and I just did! If anything happens to Kevin I would be totally scuppered. He's very strong, very practical and helps me with everything I might need. He came in yesterday and is helping me with something else now…"
So as you can see we have managed to catch our breath a little bit and this is what we are up to now…
Our MYcommunity Gateway Service makes sure our phones continue to be answered, providing information, advice, support and reassurance. Our team can get you straight into the services you need.
MYadvice is still receiving huge numbers of calls from people who have been affected financially, have issues with their housing or their employment.
MYneighbour is leading on making Friendship calls to those most isolated. As well as looking after our clients who usually have a face to face visit, we are working with other charities to make hundreds of calls every week to our most isolated. Volunteers offer a friendly voice to help people deal with the challenges of social isolation.
MYsocial has a chat line available every day for its members. They've also started an online and onphone programme of events and have just launched their Free Digital festival which presents an array of acts from music to comedy and even a bubbleologist. They have an amazing programme planned with a different act each week.
Our LInkworkers, based in surgeries, have been really busy making calls to patients our GP's are most worried about.
And in the middle of all this, it is really lovely to hear that our services are really helping. We're even trying to help make sure some of our most isolated get a chance to celebrate their birthday. Thanks to volunteers, we've had surprise visits to deliver a birthday cake, some flowers and a hopefully in-tune rendition of Happy Birthday. It makes their day. It makes us smile.