Christmas cheer for Chorley's elderly with Vincent's and Age UK Lancashire
Published on 13 December 2019 12:14 PM
Appeal for guests to attend a Festive Afternoon Tea and Singalong
Older people from Chorley and the surrounding area are invited to enjoy a free Festive Afternoon Tea with Vincent's Solicitors and Age UK Lancashire. The companionship event is being held at the charity's Lifestyle Centre in Gillibrand Street on Tuesday, December 17th from 3 pm to 5 pm.
The law firm will be inviting some of its older clients to join members of the public for the festive treat, which will include a delicious Afternoon Tea, a fun quiz, and music from the Elderly Brothers. It is hoped that the event will attract people who don't get out and about as much as they used to and encourage new guests to visit the Lifestyle Centre. Those who attended Vincent's' free Chippy Tea companionship event in the summer will also be on the guest list.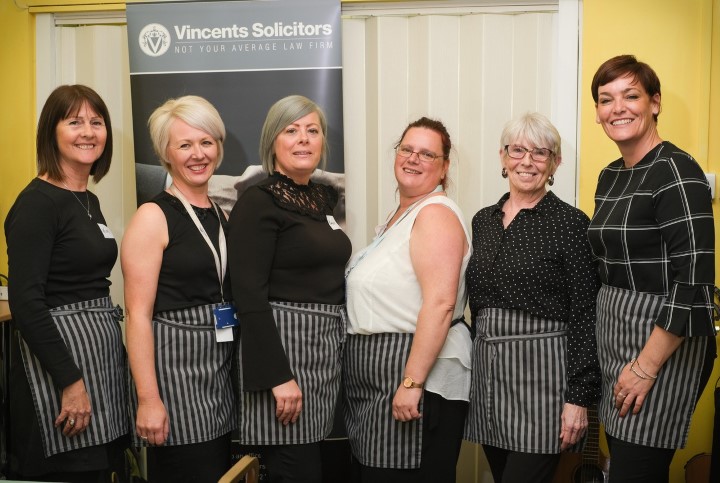 Claire Hamilton, head of Vincent's Chorley office, has organised the afternoon as part of the firm's ongoing commitment to tackling loneliness among older people, working closely with Age UK Lancashire. She said: "We would love as many people to join us as possible, especially anyone who finds themselves lonely or alone this Christmas.
"We know it's hard to get out and meet new people as you get older, but we hope coming along to a fun and friendly event will be a nice introduction to all that Age UK Lancashire has to offer.
"Many of our guests at the Chippy Tea we held earlier in the year were new to the Lifestyle Centre and have enjoyed numerous clubs and activities with Age UK Lancashire since coming to that event."
Claire also wants to the community to encourage older family members, neighbours and friends to pop along. She said: "It's Christmas and we want our guests to have a lovely fun afternoon making new friends and having a great time. If you know an older person who might enjoy a festive singalong and a bite to eat, please tell them all about the event and encourage them to join us."
As well as hosting the event at the Lifestyle Centre, which hosts numerous clubs and activities throughout the week, Age UK Lancashire will also be assisting guests without transport to make use of the Dial-A-Ride free bus scheme.
Angela from Age UK Lancashire added: "Christmas is a time of year when people traditionally come together with friends, family and their community. It can provide a great opportunity for someone who is on their own to take that first step towards meeting new people and enjoying the company of others.
"Of course it can be difficult to walk into a room of strangers but that's what events like the Festive Afternoon Tea are all about. No one will know anyone when they arrive, but we hope everyone will have some new friends by the time they leave, and we're a really friendly bunch I promise.
"Age UK Lancashire is enormously grateful to Vincent's for putting on this event and we will be delighted to welcome the guests to the Lifestyle Centre. If anyone has trouble getting here please just get in touch and we'll help to arrange transport here and back again."
To find out more, book a place or arrange transport for the Free Festive Afternoon Tea, please contact Angela on 01257 267293.