Daughter of mum living with dementia is thankful to Age UK Lancashire's Day Clubs.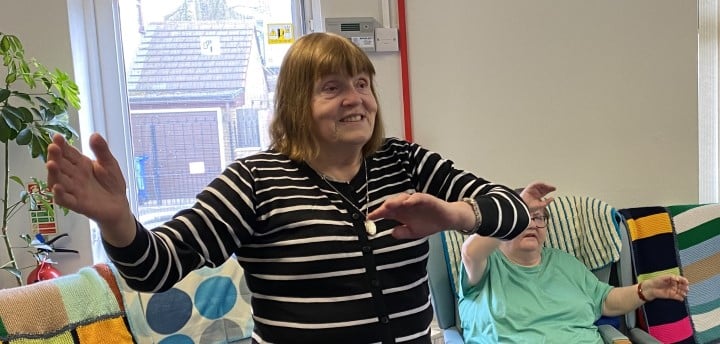 Published on 25 July 2023 10:25 AM
"We've seen a positive change in mum"
Penny was diagnosed with early onset dementia in 2019 and since 2022 she has been a member of Age UK Lancashire's Day Club in Nelson. Her smile and bubbly personality have made her a popular member, but Penny had doubts from the start.
Penny's daughter, Rachel reached out to Age UK Lancashire and their Day Club team for support for her mum to help her manage with living with dementia. Originally, Penny was reluctant to attend, not believing that Day Clubs were for her. However, encouraged by Rachel to give it a try, Penny attended for a couple of weeks and hasn't looked back since.
Penny says:
"I love it, and if I was told I couldn't come now, I'd be stood outside [the centre] saying 'let me in!'.
It's really nice, you're shown a lot of respect and we have a laugh. The food is amazing, the cook deserves a gold medal because I haven't had one meal that I don't like."
Rachel explains the difference she has seen in her mum since attending Age UK Lancashire's Day Club:
"We've seen a positive change in mum since going twice a week to the centre.
She's naturally sociable, but dementia has slowly taken away her independence to plan her own social life, and she has become more dependent on her children to do this for her. Going to the centre has provided a new set of friends to get to know, including all the wonderful staff who mum views as friends too. Mum looks forward to her centre days with excitement. She is happier in herself and feels a sense of belonging. Mum talks about the centre activities, the other clients and the staff and of course the food. Mum also feels useful as she likes to care for others and feels like she can help. I think mum's horizons have expanded and we have peace of mind knowing she's well cared for and enjoying a stimulating day."
Age UK Lancashire provides Day Clubs in three locations, Nelson, Ormskirk and Ellel. Each of them provides an opportunity for people over the age of 50 to socialise, learn and relearn skills and take on a range of activities which build confidence, promote independence and maintain cognitive function. Whilst benefitting members, our Day Clubs also provide much needed respite for carers, family and friends, like Rachel.
Rachel says:
"The Day Club absolutely provides respite for us. Two days each week and all my mum's needs are met and much more. On the journey home she is full of new topics of conversation and news about all her friends and the activities, how well she's done at quizzes or bingo. She particularly enjoys painting and arts and crafts and gardening.

We know she's receiving lots of vital stimulation."
Rachel continues:
"I really feel the staff have a connection with my mum. Always respectful and polite. It's so lovely to feel like she has a place to belong to where she is valued for who she is.
As a relative I'm included in discussions on any matters and communication is excellent."
Rachel isn't the only one to think highly of Age UK Lancashire's staff. Penny says:
"They can't do enough for you. You're shown a lot of respect and I've never felt unwelcome. Nicole [Age UK Lancashire's Service Manager] is a big personality in a very nice way, and she's always got a joke and a smile on her face."
In 2022/23, our Day Clubs provided over 43,300 hours of care and respite. We know that joining our Day Clubs can feel daunting and so we offer a free taster session for all prospective members. For more information visit our Day Club Page or call 0300 303 1234.