West Lancs Dementia Hub Launch
Published on 17 April 2019 11:29 AM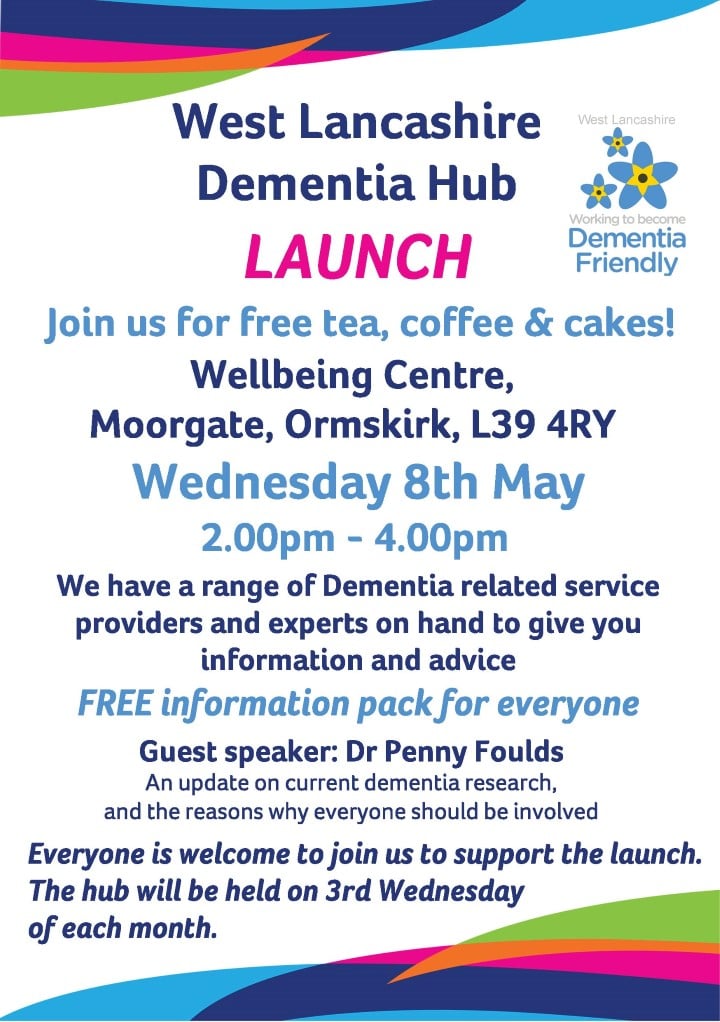 Organisations in the West Lancashire area are joining together to launch a new Dementia Hub in Ormskirk. Known as the West Lancashire Dementia Friendly Community (WLDFC), organisations including Age UK Lancashire, Alzheimer's Society and Carers Support West Lancs have got together to work towards West Lancashire becoming a Dementia Friendly Community.
The launch of the hub will be taking place at Age UK Lancashire's Wellbeing Centre on Moorgate in Ormskirk on Wednesday 8th May. The Hub opens its doors at 2pm until 4pm and people are welcome to come along and be part of this exciting new community initiative.
Peter Holton from Age UK Lancashire says: "The Dementia Hub aims to support local residents with dementia, their families, friends and carers. The fact that all these great organisations have joined together means that all the information and expert advice can be accessed under one roof, saving time and effort for anyone looking for support. We are delighted to be able to host it from the Wellbeing Centre as its location with parking and easy access will hopefully encourage locals to come along and benefit".
Dr Penny Foulds, Executive Manager of MAC Clinical Research and a Researcher for Lancaster University, will be delivering a special talk on current dementia research and reasons why everyone should be involved, as part of the special launch day.
Peter Holton added: "The hub will take place on the third Wednesday of every month, giving people the chance to attend regularly and get the support they need in an informal, friendly and welcoming environment. We have already arranged for special guest speakers at each session and we are delighted that Dr Foulds is coming along to help us launch the hub".
Everyone who comes along to the launch will be given a free information pack and be treated to complimentary drinks and cakes courtesy of Morrison's supermarket in Ormskirk. The Dementia Hub has been funded initially by Age UK Lancashire, a grant from West Lancashire CVS and a donation from Mooney Everett Solicitors. Morrison's Community Champion has pledged to support the ongoing monthly Hub's alongside the Aughton & Ormskirk U3A, Lancashire Fire and Rescue, and a wide range of individuals and organisation's as part of West Lancashire Dementia Friendly Community.
Full details of future dates, guest speakers and organisations in attendance can be accessed by emailing westlancsdfc@gmail.com or visiting the Wellbeing Centre for the launch. The event is open to anyone who wishes to attend and there is no need to book. People are encouraged to come along, see what is available and can stay for as long as they wish.
Dementia Hub Leaflet
To contact any organisation about services and support please see this leaflet