Veterans Art of Isolation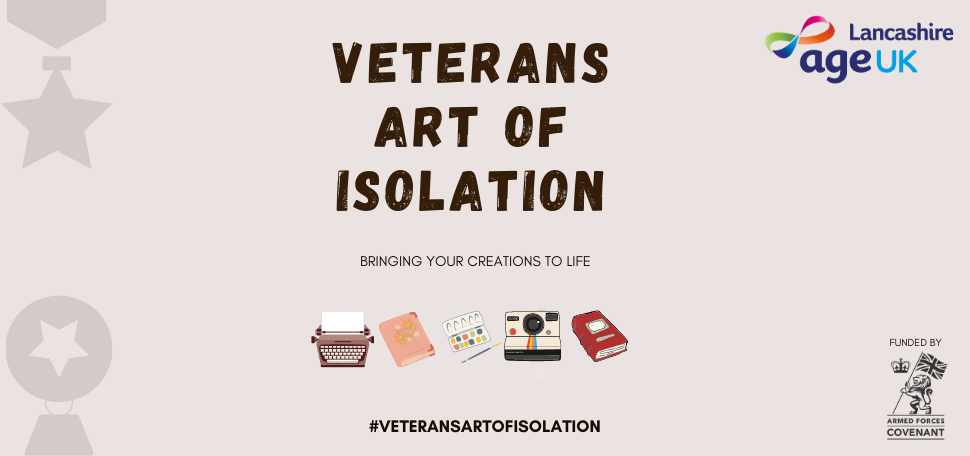 Bringing your creations to life
Be part of this special project for Veterans, where we are bringing together your creations to form a virtual exhibition and publication.
If you are a veteran (aged 50+), or the family or carer of a veteran, then this is just the activity for you! (A veteran is someone who as provided at least one day of service, for example National Service, RAF, Army, Navy, TA along with Merchant Navy).
What are we looking for?
Drawings
Paintings
Sculptures or crafts
Photography
Audio
Films
Short stories/creative writing pieces
The subject matter can be a reflection of any aspect of life during lockdown. It could be discovering new hobbies or rediscovering old ones, reflections on finding new ways to communicate with loved ones, adapting to new circumstances, new conversations, new relationships or new thoughts. These can be captured/recorded in a photograph, a piece of writing, an audio recording or on film. It could be a photograph through glass of a loved one, filming yourself picking your first ever home-grown radishes, a drawing made of a family member, an audio story recorded for children, a poem or a song.
The limit on the amount of work that can be submitted in different media is:
Photographs: Up to 6 photographs
Writing: Up to 2000 words
Audio recordings: up to 2 mins recording time
Film: up to 2 mins recording time
How to send in your creations?
Submissions can be made by email to: advice@ageuklancs.org.uk and typing Veterans Art of Isolation in the subject line.
On Twitter by tagging @AgeUKLancashire and using #veteransAOI #VAOI
If you need to post your creations, then please contact us on 0300 303 1234