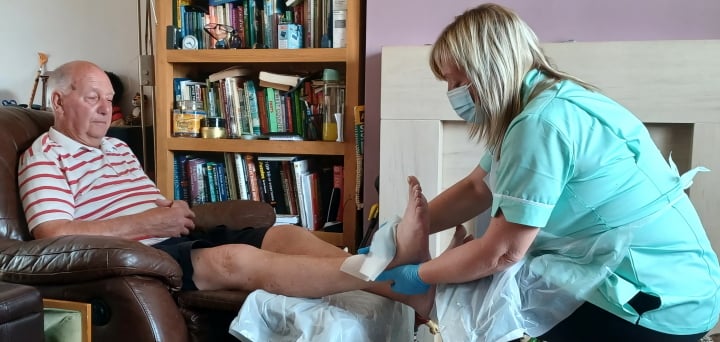 We are now taking on new clients in Wellingborough, Kettering and Corby areas.
If you are interested in working for us, please get in touch, as we need to recruit more Toenail Cutting Service Workers and would love to hear from you.
We run a basic toenail-cutting service for anyone who is unable to manage their own nail care.
Please be assured that we are continuing to take sensible measures and doing all we can to keep our clients safe.
Our staff wear PPE, including a mask whilst cutting your toenails. They will usually remove their mask, unless you ask them not to, when the treatment is completed
We are following our normal hygiene measures and the sterilising of equipment to ensure clients' safety
What does the service offer?
We aim to provide a personal service, regardless of age or ability, in a safe environment that will enhance a person's mobility and comfort. This could be on a short term basis or ongoing, for as long as the service is needed.
At each visit our nail cutters will clean your feet using anti-bacterial wipes, then cut or file your nails as necessary. If you wish they will also gently apply your own moisturising cream.
Our nail cutters have had full training and are fully insured and DBS (Disclosure and Barring) checked for security purposes.
All our staff carry proof of identity - please ask to see their identification badge, they will be happy to show it to you.
Who is it for?
Anyone who needs help cutting their toenails, including people who are diabetic.
We are happy to treat clients with dementia, although it is desirable that they have a familiar person to accompany them at the appointment.
This is a toenail cutting service only, so we are unable to treat ingrown toenails, corns, callouses or foot infections. Clients with such conditions should seek advice from a podiatrist or chiropodist registered on the Health Care Professionals Care Register.
How much does it cost?
The cost for each treatment is £27.50
Home visit per couple is £52
Home visit for multiple clients at the same appointment: first client £27.50, each subsequent client is £24.50
Payment is usually made at the time of treatment by card reader or cheque but other options are available. Please let us know if you would prefer to be sent an invoice.
Due to the thickness or shape, and sometimes brittle nature, of older nails they often require a heavy duty pair of nail clippers and an extra coarse file. Clients can supply their own equipment or we are happy to supply these at an additional one-off cost of £15.75 for clippers and file; £10.50 clippers; £5.25 file
For an extra £6.75 we can trim fingernails at the same appointment.
How do I access the service?
Please call us on 01604 611200.
Or send an email.
You do not need to be referred by a GP or other professional, but clients with health conditions that have affected the condition of their feet should seek advice from their GP before starting the service.
All our Toenail Cutting Workers carry a card reader so that you can pay by contactless at the time of your appointment. This is a secure and convenient way to pay and saves you having to get cash out in advance.

Olive Rantle says she keeps on top of the housework by doing a different task every day. Her son takes her shopping and looks after the garden, but Age UK Northamptonshire helps keep her mobile by trimming her toenails.
Other information you may find helpful
Related pages on our website
Related pages on other websites