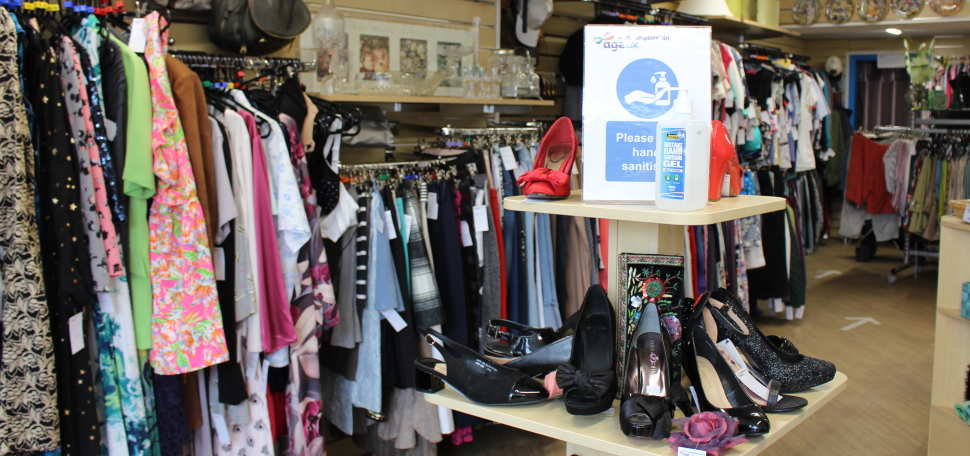 With your support our shops raise vital income that enables us to help over 14,000 local older people and their families every year
Donate, shop for a bargain or volunteer, and make a difference
Covid-19 update
11/8/20
Seven shops have now re-opened
Our St Giles Street, Kingsthorpe, Kettering, Burton Latimer, Rothwell, Thrapston and Brackley shops have re-opened with social distancing measures in place. The shops will open 30 minutes later and close 30 minutes earlier than usual to enable us to carry out extra cleaning and other precautionary measures to ensure the safety of our customers, staff and volunteers. Far Cotton is closed until further notice. Please remember, wearing a face covering will be mandatory (unless exempt) when visiting all our shops from Friday 24th July.
Special arrangements during the coronavirus pandemic
We warmly welcome your donations of good quality clothes, books, bric-a-brac and household items. Please check the page of each shop for details on how to safely donate your items.
All donations will go into quarantine before they are handled and will be steam cleaned/sanitised before being sold. Please talk to a member of our team at the shop so that they can let you know how to drop off your goods safely.
Whilst our shops are closed please do not take donations to them and do not leave any bags or items outside the shops. We are not able to accept donations at the Venton Centre in Northampton or our Billing Road offices at the moment.
Thank you for supporting our shops
Our shops are a vital source of income to the charity and we are doing our best to re-open them. Please remember that we have to follow government guidance on social distancing and put in place the necessary steps to keep our staff, volunteers and customers safe when re-opening a shop. A large proportion of our volunteers are over 70 or may be at high risk of coronavirus and were advised to shield until the end of July or longer. Thank you for your understanding and support.

Volunteering at our shops
Our shops are friendly places where volunteers sort donations, keep the shop floor tidy and serve customers. If you can spare a morning or an afternoon on a regular basis to volunteer in one of our shops we'd love to hear from you. Please get in touch.
Find out more
23 Market Place
Brackley
NN13 7AB

Tel 01280 706404

Re-opened Tuesday 11th August

14 Churchill Way
Burton Latimer
NN15 5RU

Tel 01536 722542

Re-opened Monday 10th August


Far Cotton

114 St Leonards Road
Northampton
NN4 8DW

Tel 01604 877854

Temporarily closed

We hope to re-open Monday 28th September.

62 Stamford Road
Kettering
NN16 8LL

Tel 01536 310072

Now open
Monday to Friday 9.30am - 3.30pm
Saturday 9.30am - 2.30pm
Visit their huge secondhand furniture store in Kiln Farm.

Visit their well-stocked secondhand bookshop in Wolverton.