General and Specialist Office-based Volunteers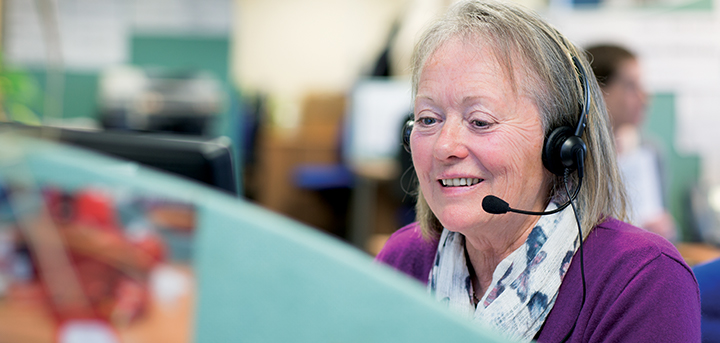 Helping local older people during this pandemic
Thank you so much for your interest in volunteering to support older people. Hundreds of people like you have come forward and that means that older people are getting the help they need at this very challenging time. Because there has been such a brilliant response, it may take us a while to process your information so please bear with us. There's lots you can do in the meantime to help an older person near to you. Why not take part in our Dear Friend scheme (click on the button to find out more) or volunteer within your local COVID-19 response group? We are grateful for your interest and we won't forget you. In the meantime, stay safe follow the guidelines, and look after yourself and those you love.
Volunteer Advisors (specialist)
As part of the Information and Advice Service you would provide advice on a range of subjects relevant to the needs of older people and to those who are caring for older friends, partners and relatives. The service operates throughout the City and County of Nottinghamshire so you could be providing advice over the phone or face to face from our head office base in the City Centre or you could do this at the client's home if you are happy to travel and get out and about. You would be giving direct help and advice on certain areas of support (e.g. welfare and health benefits or community care or housing options for older people), or referring/signposting clients to other Age UK services or other relevant organisations where necessary. Through this advice, you would be helping to reduce worry for older people and enabling them to make more informed decisions. In the case of providing advice on Welfare benefits you would also be helping to increase income for older people
Volunteer Peripatetic Administrators
The majority of our service support functions are based at our Head Office, Bradbury House which is located centrally in Nottingham City.
You would join the Charity and when you are ready to start, you would be allocated to support a service with administrative tasks such as data input, typing, making phone calls, photocopying, filing etc. Once the support for that service is complete or no longer required, you would move on to support the next service that is in need of administrative support.
Back Office Support Volunteers
Based at our Head Office, Bradbury House which is located centrally in Nottingham City, you would support the staff in our offices to complete basic duties such as photocopying, filing, printing and shredding. You would not come into contact with members of the public in this role.
Volunteer Telephonist/Receptionists
Our city centre Head Office reception is always very busy so we normally have both a full-time and part-time receptionist on duty. At peak times, you would support our receptionists by talking with customers who call in to our reception and answer both internal and external phone calls from our busy switchboard. Many of our customers are older and sometimes vulnerable you would therefore need to be patient and happy to provide a high level of support to ensure they leave us having received the information, advice or signposting they require.
(Please note: Not all roles are always available. Check the most recent matrix for current availability)
Like what you hear?
If you would like to join our team of volunteers, we would love to hear from you!
Start your application online today