Health & Wellbeing Support Volunteers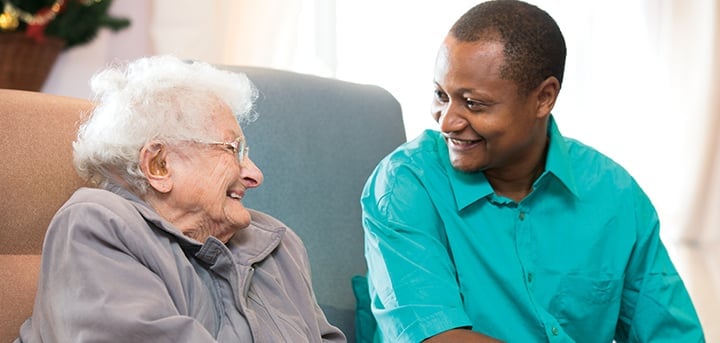 Volunteer Telephone Befrienders
You will perform a vital role in relieving loneliness and isolation in an older person who is unable to get out of their house. You will phone an older person on a regular basis (usually once a week for a period of 30 minutes) from your own phone and chat to them to befriend them and help them cope with feelings of loneliness and isolation that they may be experiencing . We often encourage older people to make use of this service on a temporary basis whilst they are waiting for a Health and Wellbeing Support volunteer to become available to visit them at home. This volunteer role can be undertaken with the smallest contribution of time- just 30 minutes per week and it doesn't matter where you are each week as you can make the phone call from wherever you happen to be.
Health and Wellbeing Support Volunteers
You will support an older, lonely and/or isolated person through personal face to face visits that take place in the person's own home. This could be on a longer term basis through befriending the older person and/or on a time-limited basis by offering practical support to an older person at a difficult time to help them to re-engage with their daily life in their community. Whether it is short term or long term the role you perform will be vital to the health and wellbeing and quality of life of the person you are matched up with. We ask that you have a minimum of one hour per week if you want to befriend an older person on a long term basis, or up to three hours per week if you would prefer to support somebody on a shorter term basis.
Forces Friends Volunteers
You are most likely to have a background or family connection with the armed forces however, this is not always the case and we do consider applications from individuals who are interested in the role, but have no forces connection. You will visit an older, lonely veteran and through your common shared background, experiences or interests you will forge a friendship with them and where possible support them to re-engage with their community.
Day Care Activity Support Volunteer
You will support the staff at our Sybil Levin Day Care Centre which is located on the outskirts of Nottingham to set up, run and pack away activities for the people who attend the centre. Activities may involve board games, card games, craft sessions etc. You will also chat to the centre users about their life experiences, perhaps read newspapers to them and with them and maybe listen to music with them. The Sybil Levin Day Centre is a centre of excellence for older people with early and mid- stage dementia where they can come and enjoy activities and a hot, home cooked meal. As our day care runs morning and afternoon sessions you would need to be available for a minimum of either one afternoon or one morning session per week. Each session is approximately 3 hours.
Best Foot Forward Volunteer Walk Leaders
We offer a series of weekday guided health walks around Nottingham City. The routes are pre-planned and of varying lengths and difficulty. Attendees at the walks range from those who are very able to those who are less able and trying to improve their general health and wellbeing. You will usually be one of two walk leaders, one who leads from the front and one who walks at a slower pace with those at the back. Both leaders between them support all attendees to ensure the walk is fully inclusive. If you can't commit to being a permanent walk leader for the same walk every week then you may prefer a temporary volunteer walk leader role where you help less frequently and on different walks to cover vacancies, sickness and holidays. The walks are of varying length and times and there is paperwork you will need to complete before each walk so the time you will need to be available to volunteer will depend upon the specific walks where we have vacancies.
(Please note: Not all roles are always available. Check the most recent matrix for current availability)
Like what you hear?
If you would like to join our team of volunteers, we would love to hear from you!
Start your application online today