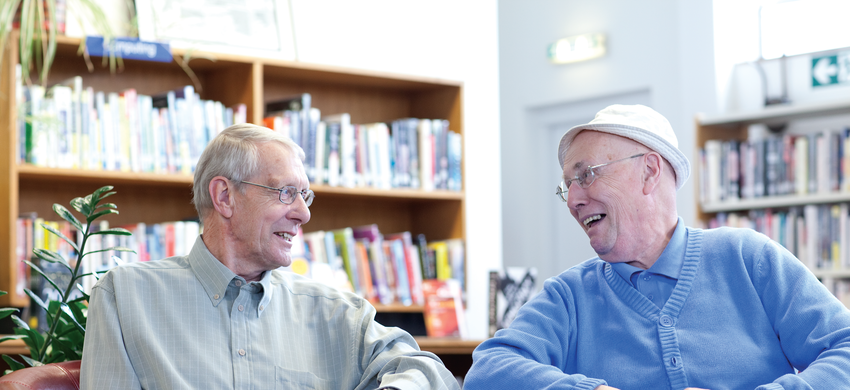 For those with memory loss or dementia we provide a specialist day care service providing meaningful, varied and personlised activities.
This service is for people with dementia or memory loss. If this is not applicable, please visit here.
Our dementia day centre provides care for people with memory loss, cognitive issues and all stages of dementia. We understand that a diagnosis of any illness can be difficult for both the person and their carers, therefore we offer free introduction and taster sessions. People can come along to meet with our team and find out about the support available to them, easing their transition into the service.
Our aim is to provide an approach focused on our clients enjoying quality time with us, and for their carers to know that their loved ones are being well looked after and are engaging with the group. Our experienced team adapt to meet the needs of each client, there's always a variety of stimulating and engaging activities on offer.
Operates five days a week (Monday - Friday)
Offers an enjoyable day out in a friendly, safe and comfortable environment
Offers flexible day care to suit individual needs (ranging from three hour sessions to a full day)
Offers day respite for carers
Refreshments are available on arrival and throughout the session, our in house catering team can provide home cooked two course meals which clients enjoy together.
Activities:
Clients enjoy a wide range of activities including:
painting and crafts
puzzles and quizzes
singing and dancing
performances from theatre groups and musicians
indoor sports including table tennis, boules and virtual reality cycling
baking
sensory activities including use of the dedicated sensory room
seasonal acitivities to celebrate special occasions
Client Testimonials - Spring 2022:
"I have been really pleased with how quickly my mother adapted to attending the centre despite her Alzheimer's making any change of routine difficult for her, in particular the way she was made to feel comfortable from the outset. I have found the staff to be very approachable and helpful in terms of providing feedback at the end of each day when requested and it would seem they have got to know and understand Mum in a relatively short space of time. I consider that she benefits from attending the centre from both a social interaction perspective and also being encouraged to participate in the activities at the centre as she feels inclined, given that she finds things increasingly difficult at home."
Covid-19 Measures
Age UK Plymouth's Dementia Day Centre is fully compliant with the latest Government COVID 19 guidance. Age UK Plymouth has put a number of additional processes in place some of which are:
Clients are temperature checked on arrival
All staff will wear appropriate PPE
Additional hand washing / hand sanitising
Maintaining social distance where appropriate
Full details of our COVID precautions will be discussed at the point of assessment and copies of our full risk assessment are available upon request