Co-op keeps us cool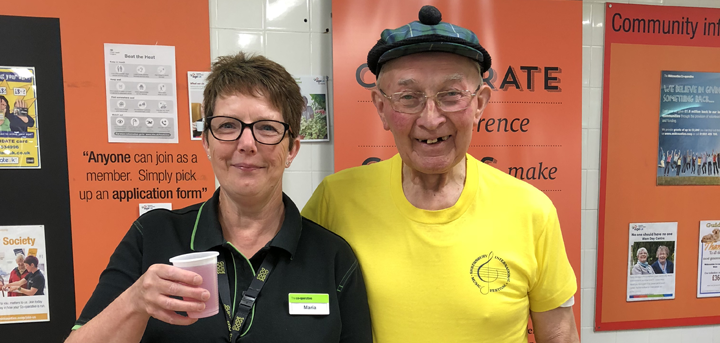 Published on 10 July 2018 03:16 PM
Staff at the Co-op supermarket in Wem have been offering free cold drinks and a seat to help older customers to keep cool.
Maria Leicester, a staff member at the Midcounties Co-operative in Wem, noticed that older customers were struggling to walk to and from the store with heavy bags of shopping in soaring temperatures so she asked her bosses if they could do something to assist.
The Co-op team decided to put in extra seats near the tills so older people can rest their tired legs and they have also set up a drinks station offering squash and water to everyone to rehydrate themselves.
Maria said: 'We have seem that quite a few customers, particularly older people, are struggling in the heat. It's so important to keep hydrated and stay cool if you are older. We started this last Thursday and I served over 300 drinks, so it was a big hit!'
Simon Thornley, Co-op Manager, said: 'We have given out many litres of squash to lots of thirsty shoppers. We are proud to be helping people in our community, particularly our older customers.'
Heather Osborne, Chief Executive of Age UK Shropshire Telford & Wrekin, said: 'This is a wonderful example of how businesses can support older people in their local communities and become more age-friendly. It is a very kind gesture which I am sure many older people in Wem are appreciating.'
If you know any older people who are struggling in the heat, Age UK Shropshire Telford & Wrekin can offer help and advice on ways to stay cool. Call 01743 233 123 for more information.