The story of Winter Growth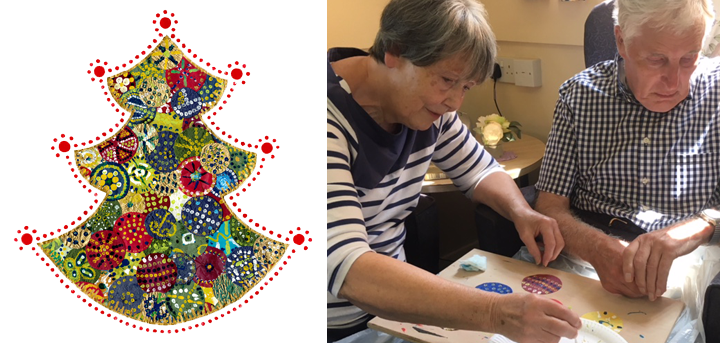 Published on 13 December 2018 11:38 AM
The Winter Growth tree on Age UK Shropshire Telford & Wrekin's Christmas card represents the joy that creativity can bring to the lives of people living with, and affected by, dementia.
During the summer of 2018, people attending our dementia drop in sessions across Shropshire took part in a group art making activity to create an image for a Christmas card.
Creativity is a fundamental part of our dementia support groups, and Rachel Byron from Make a Mark CIC has been providing creative sensory reminiscence and art making sessions for several years. The opportunity to create a Christmas card seemed a perfect platform for celebrating the creative skills of people attending the sessions, where so frequently new skills are developed, or old ones rediscovered.
The group drew Inspiration for the tree from Scandinavian design, which involves repeated patterns and dots in simple and striking colours. During the sessions participants looked at examples of Scandinavian art, and then worked with handmade papers, acrylic paints and ink to create individually painted and printed circular designs. Each circle was unique to its maker, with some people choosing to make patterns from dots and swirls, and others painting miniature scenes. Looking closely at the tree you can see a myriad of colours, textures and shapes, with flowers, butterflies and even an anchor nestling inside.
Making art provides a unique platform for people to express themselves. Rich and joyful conversations emerged alongside the artwork, from experiences of visiting Scandinavia, to the importance of colour in winter. Participants shared a collective sense of pride in the final piece and in one another's work.
You can buy the Winter Growth card and other festive designs from our offices in Telford and Shrewsbury, our charity shops in Wellington, Shrewsbury and Oswestry or by ordering online. All proceeds from the sale of our cards helps to provide vital services for older people across Shropshire and Telford & Wrekin.