Bringing generations together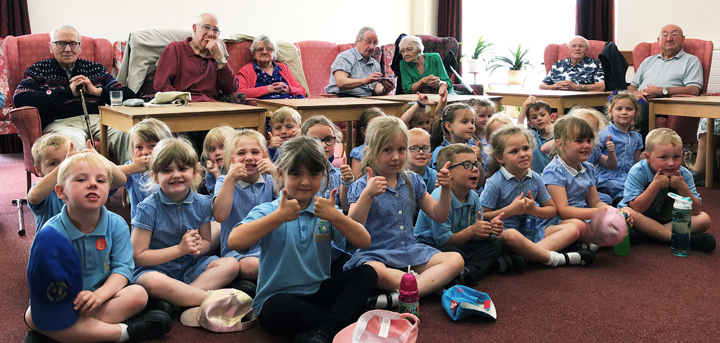 Published on 21 August 2019 03:26 PM
Age UK Shropshire Telford & Wrekin's Castlefields day centre has formed a special link with the Darwin reception class at Mount Pleasant Primary School in Shrewsbury.
Once a term, children from the school visit the older people who attend the day centre to talk to them and get involved in activities with them.
Most recently, four five year olds visited the Shrewsbury day centre to practice outside for their sports day. Afterwards they sang songs to entertain the members and everyone joined in together to have a lovely time.
Day centre organiser Susan Wright said: 'It was lovely to see the children again and our members look forward so much to their visits and love talking and chatting to the children and staff who give up their time to bring them.'
Karen Roberts, Mount Pleasant Primary School said: 'The children really look forward to coming and meeting the older people and we look forward to continuing this intergenerational partnership.'
Our day centres in and around Shrewsbury run weekly from 10.00am-3.00pm and are a fun way to meet new people, both young and old! There is a small charge for attending a day centre, but lots of fun activities, a two course hot meal and transport are all included in the price.
To find out more about our day centres call Rachel Hurford on 01743 233 123.