BT staff support respite service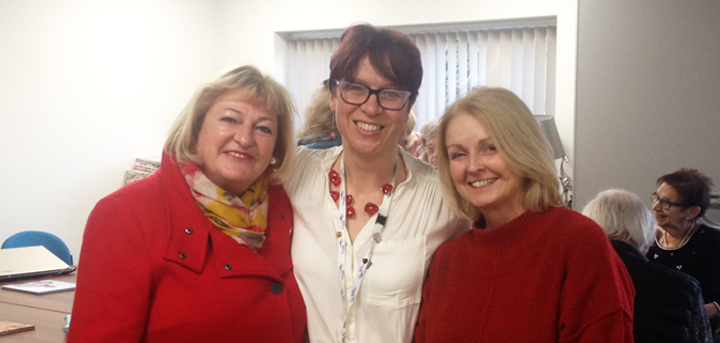 Published on 06 March 2019 01:04 PM
Enterprising BT staff members recently donated an amazing £560 to support Age UK Shropshire Telford & Wrekin's dementia respite service in Shrewsbury.
Organisers of the fundraiser, Jane Lewis and Tracey Binny raised an astonishing £1,120 for charity from a tombola and cake sale and generously donated half of the funds to support our work with people with dementia and their carers.
Jane and Tracey were delighted to spend an afternoon at Withywood, home of our dementia respite service. They brought with them a gift of a play parachute, wore something red in support of the Valentine's Day theme and fully involved themselves in a range of activities. From reading love poems to painting, card-making to cake decorating, singing to table top ball games, a quiz and of course tea and valentine chocolates, they enjoyed plenty of interactive fun throughout the afternoon with members.
Jane and Tracey both have personal experience of people living with dementia and they were very impressed by what they saw. Jane said: 'Tracey and I are thrilled to have had an opportunity to visit Withywood; it has been both a privilege and a pleasure to spend time with such lovely people and to see, first-hand, an afternoon of respite in action. Members are clearly happy here, the facilities are truly impressive and the staff and volunteer helpers are outstanding.'
'I know my colleagues at BT will be very happy for the money we have raised to be donated to support the wonderful service Emma, Gina and the dementia respite team are providing.'
Emma Wilde, our Senior Day Services Coordinator, was delighted to receive the boost to funds: 'Huge thanks to Jane and Tracey, not only for their fundraising efforts but also for their generosity of spirit and level of enjoyment they clearly brought to our day centre members at Withywood when they visited. They fully immersed themselves in the activities, added enthusiasm, laughter and a real sense of fun to the afternoon and I am in no doubt their experience will have confirmed that their wonderful donation will be well spent on important resources to support our dementia respite service activities.'
Further information
Related pages on our website