Christmas cheer for day centres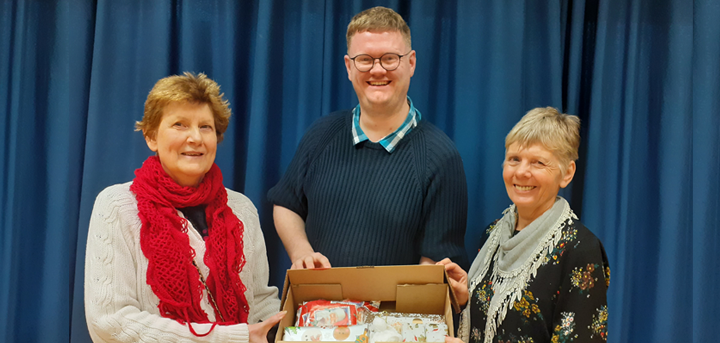 Published on 24 December 2019 10:49 AM
Local financial services company ReAssure is generously distributing Christmas boxes to older people in Telford via Age UK Shropshire Telford & Wrekin's day centres.
Filled with a range of festive gifts, the boxes bring some welcome cheer to our day centre members over the festive season.
Age UK has been ReAssure's corporate charity partner since 2017. Employees were able to give their time to this project through ReAssure's volunteer policy, which allows every member of the ReAssure team up to 15 hours' paid time off to take part in community events and charitable activities each year.
Tim Walsh, Social Events Committee Chair at ReAssure, said: 'This is the third year in a row we've worked with Age UK Shropshire Telford & Wrekin to provide gift boxes for their Telford day centre members. A lot of work goes into co-ordinating over 250 handmade items, buying individual gifts and then arranging volunteers to wrap, pack and distribute the packages, but every person involved has loved the opportunity to give something back to our local community. Some of them have even learned some new knitting skills along the way!'
Marilyn Davies, organiser at Madeley Day Centre, said: 'How absolutely amazing to have individual boxes and individually wrapped gifts. It is great for our members to have something to open. We are very appreciative.'
Emma Wilde, Senior Day Services Coordinator at Age UK Shropshire Telford & Wrekin, added: 'This is such a lovely gesture by ReAssure, and we are touched that staff have taken the time and effort to make sure our day centre clients have a happy Christmas and feel thought about and cared for by the wider community. Thank you so much to everyone involved at ReAssure for making this happen.'
If you'd like to find out how you could help local older people call us on 01743 233 123 or email enquiries@ageukstw.org.uk
Further information
Related pages on our website