Our Christmas cards are on sale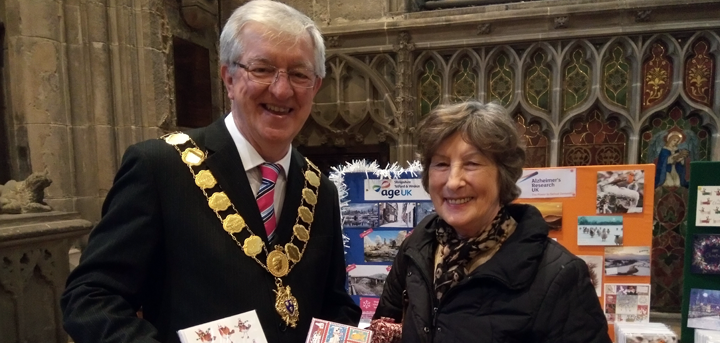 Published on 07 November 2019 10:59 AM
The Shrewsbury Charity Christmas Card shop is now open for business and the Mayor of Shrewsbury, Councillor Phil Gillam recently came to visit.
The popular festive store at St Mary's Church represents around 40 charities, both local and national.
This year Age UK Shropshire Telford & Wrekin cards feature images of local beauty spots and historic buildings, taken by local photographers. Shropshire photographers Alison Utting, Jamie Ricketts, Robin Jukes-Hughes, Graham Mitchell and the team at Shropshire and Beyond kindly donated beautiful pictures of Shrewsbury, Oswestry, Ludlow, Ironbridge and Ellesmere for the range.
A pack of 10 cards cost £4.00 and profits go directly to supporting services for vulnerable older people in Shropshire and Telford & Wrekin. The cards are on sale in:
the Shrewsbury Charity Christmas Card Shop in St. Mary's Church
our charity shops in Wellington and Oswestry
You can also download an order form and we will post the cards to you on receipt of your order.
Further information
Related pages on our website
Downloads