Quiz to support dementia group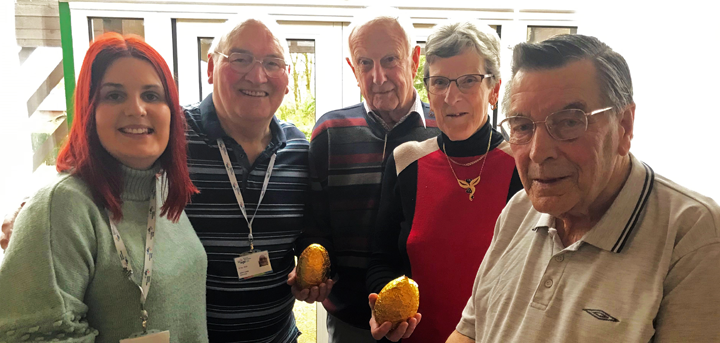 Published on 29 April 2019 12:09 PM
Ron Munt, a member of Age UK Shropshire Telford & Wrekin's dementia support group in Dawley, recently organised a quiz in memory of his late wife Frances and raised £110 in the process.
Ron was keen to provide a stimulating activity for the members whilst raising money to support the group. Ron said: 'Frances used to love attending Dawley Dementia Support Group and this is my way of saying thank you for all the support and kindness she received.' Since Frances passed away, Ron has continued to be a member of the group along with his brother John, who also used to attend with his late wife Joyce. Sadly, both wives passed away within a couple of weeks of each other.
The quiz included questions on the local history of Telford and Dawley and the Co-op in Trench kindly donated prizes, which included chocolates and wine.
Gina Bedding, Day Services Support Officer of Age UK Shropshire Telford & Wrekin, said: 'We work hard to plan and run a wide variety of activities at our dementia support groups, which are designed to stimulate and encourage both conversation and shared experiences. Activities range from guest speakers to musicians, games sessions to shared reading, magic to yoga and much more besides. Everyone thoroughly enjoyed Ron's quiz, which provided plenty of opportunity for members to engage with one another and we all appreciate the hard work and effort he has put in to making this a great afternoon.'
Age UK Shropshire Telford & Wrekin run dementia support groups in Bridgnorth, Copthorne, Dawley, Donnington, Ketley Bank, Monkmoor, Oswestry, Pontesbury, Shifnal, Wellington and Whitchurch. For further information, please contact our Dementia Support Team on 01743 233 123 or enquiries@ageukstw.org.uk
Further information
Related pages on our website