School's Tea Party success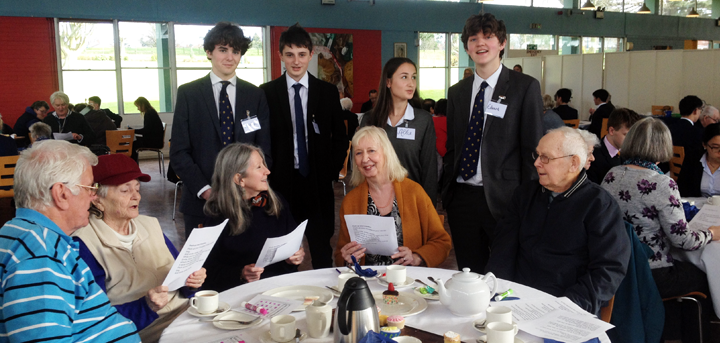 Published on 04 April 2019 03:05 PM
Nearly 100 older people recently enjoyed an afternoon tea party at Shrewsbury School, thanks to a collaboration between sixth form students and Age UK Shropshire Telford & Wrekin.
Shrewsbury School students with keyboardist John Moore, Director of Music, performed songs to entertain the guests at the event, which was organised by the school's Global Social Leaders (GSL) team. Two representatives from the Guide Dogs for the Blind Association each gave an excellent presentation, while a plentiful supply of cakes, a singsong and a lively game of bingo completed the afternoon.
Age UK Shropshire Telford & Wrekin helped promote the Tea Party, and as a result, it attracted its largest audience to date. The now annual event included quite a number of our day centre members, who were delighted by the occasion.
The GSL project aims to encourage young people across the world to develop their leadership skills in order to create action projects in their local community. Their initiatives are completely student-led and organised.
Rachel Hurford, Service Development Officer for Age UK Shropshire Telford & Wrekin, said: 'Some of the people attending the event have limited opportunity to engage socially. Clearly the students put a lot of thought and effort into making the afternoon such an enjoyable and sociable experience for everyone present and we are delighted to have been involved.'