Wearing a facemask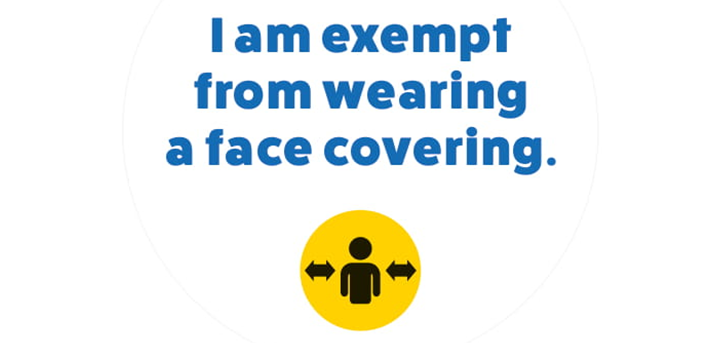 Published on 29 July 2020 12:04 PM
As we are all aware, face coverings are now compulsory in shops and take away services in England, but there are exemptions to the rule.
If you aren't able to wear a mask because of a physical or mental illness, impairment or disability or it would cause you severe distress, you are exempt from the new ruling. (You can view a full list of exemptions on the government's website.) We know that for some people living with dementia and other hidden disabilities this situation could be a potentially stressful one and cause conflict if they are not wearing a mask.
The government have suggested that people who are exempt can wear a badge or a carry an exemption card to show that they do not have to wear a face covering. However, this is a personal choice and is not a legal requirement: those who have an age, health or disability reason for not wearing a face covering should not be routinely asked to prove that they are exempt. You can find examples of exemption cards to print or store on a mobile phone on their website.
Alternatively, people with dementia may prefer to carry an Alzheimer's Society Helpcard, which explains they have memory loss or dementia and includes an emergency contact number. You can find out more about the helpcards, and order them free, on their website.
The Hidden Disabilities website also sell exemption cards as well as other items such as sunflower lanyards, which can be used to discreetly indicate that the wearer has a hidden disability.