70th birthday appeal success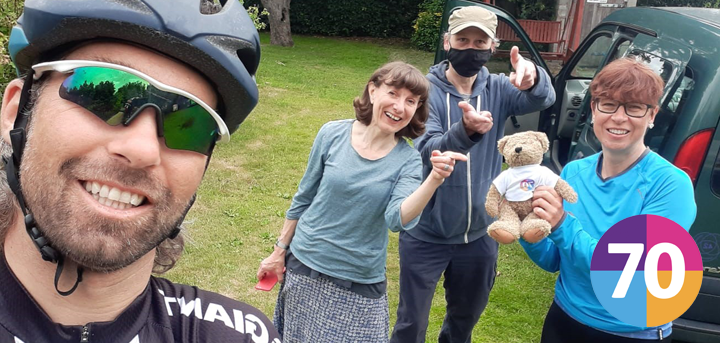 Published on 24 November 2021 03:45 PM
Age UK Shropshire Telford & Wrekin thank our Platinum Challenge fundraisers for their achievements during one of the most difficult years in any fundraising calendar.
We launched our Platinum Appeal in November 2019 to span our 70th birthday on 11 November 2020. Our ambition was to raise funds from a variety of fundraising events and celebrate the charity's achievements over the past 70 years. Just three months into the appeal we faced new challenges with the pandemic, with the result that all our fundraising events were put on hold. Our fundraising team called on local people to support our appeal and to take up their own challenge events and get sponsorship.
There were lots of fundraisers finding creative ways to generate donations: one schoolgirl held a Christmas street concert for people living with dementia, members of Bridgnorth Golf Club put together a recipe book (which is still available to purchase), and a member of our staff and a volunteer cycled from Lands End to John O'Groats.
The money they all raised is now being used in a variety of ways: supporting people living with dementia and their carers, providing one-to-one training to help older people get online to stay connected with their loved ones and helping vulnerable older people across the county to access the advice and information they need.
Heather Osborne, Chief Executive of Age UK Shropshire Telford & Wrekin said: 'We want to say a huge thank you to all the local companies and individuals who supported our Platinum Appeal; without them we just wouldn't be able to help so many older people. The past two years have been difficult for all charities to fundraise and we are overwhelmed with the support we have received. I'm delighted that older people's lives are being changed thanks to the efforts of our fundraisers and it's heart-warming to hear the positive feedback from our staff and volunteers.'
You can take up your own fundraising challenge to support older people in our county, for more information just call Age UK Shropshire Telford & Wrekin's fundraising team on 01743 233 123.