Christmas cards and calendars on sale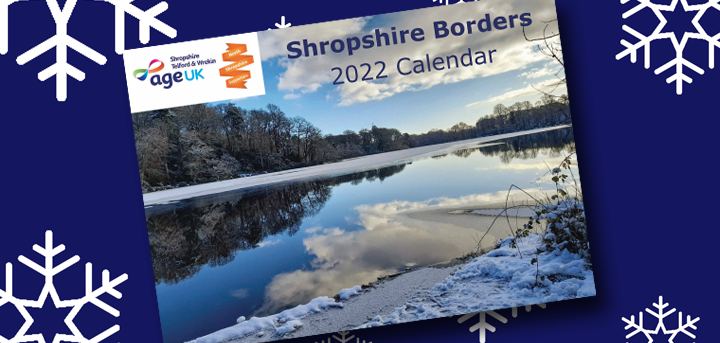 Published on 03 November 2021 01:48 PM
Age UK Shropshire Telford & Wrekin is selling charity Christmas cards and calendars in the ever popular St. Mary's Charity Christmas Card Shop in Shrewsbury.
For the first time we will also feature our cards in the pop-up Charity Christmas Card Shop at St. Oswald's Church in Oswestry.
This year Age UK Shropshire Telford & Wrekin cards feature images of local beauty spots and historic buildings, taken by local photographers. Shropshire photographers Alison Utting, Jamie Ricketts, Robin Jukes-Hughes, Graham Mitchell and the team at Shropshire and Beyond kindly donated beautiful pictures of Shrewsbury, Oswestry, Ludlow, Ironbridge and Ellesmere for the range.
St. Mary's is open Monday to Saturday, 10.15am-4.00pm until Saturday 4 December and St. Oswald's is open Monday to Saturday, 10.00am-4.00pm until Saturday 11 December. A pack of 10 cards costs £4.00 and profits go directly to supporting services for vulnerable older people in Shropshire and Telford & Wrekin.
In addition to the cards, the Age UK North Shropshire Supporters group has created the Shropshire Borders 2022 Calendar, featuring cute animals and scenes from all around Shropshire. All the photographs are from local people who took part in the charity photo competition organised during the last lockdown.
Calendars cost £5.00, with profits going directly to support older people. The calendars are on sale in:
St. Mary's Charity Christmas Card shop, Shrewsbury
St. Oswald's Charity Christmas card shop, Oswestry
Age UK Shropshire Telford & Wrekin's charity furniture shop in Wellington
Reception at our Shrewsbury office
Various businesses in Ellesmere: Moolah, The Corner House, Ellesmere Post Office, Mere Cafe and The Boathouse.
Alternatively, you can download the order form below and we will post the calendar to you on receipt of your order.
Further information
Related pages on our website
Downloads