Cookbook raises funds for older people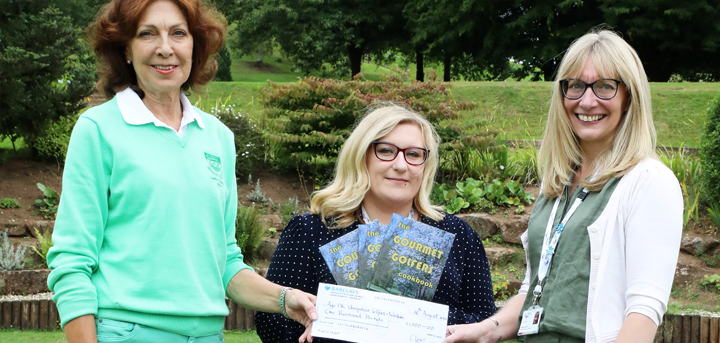 Published on 22 September 2021 03:38 PM
Sales of Bridgnorth Golf Club's cookbook have so far raised £1000 to support older people across Telford and Shropshire.
The money raised from sales of their golf themed cookbook were generously match funded by Barclays under their special Covid match funding scheme, and the donation will help Age UK Shropshire Telford & Wrekin to provide vital services for local older people.
At the beginning of the first lockdown members of the club had been unable to play or organise fundraising events due to the pandemic so Lady Captain in waiting Carrie Lees came up with a new way to fundraise for Captains' chosen charities and put forward the idea of compiling a golfing themed cookbook. With the support of her fellow Captain in waiting Jeremy Wilson and the club, she oversaw the compilation of The Gourmet Golfers Cookbook with the help of three friends and recipe contributions from over 50 members of the club.
Carrie's chosen charity for her year as Lady Captain is Age UK Shropshire Telford & Wrekin. Carrie invited members of the Income Generation team to come to Bridgnorth Golf Club to be presented with a cheque for £1,000 raised from the book sales to date and as a surprise the team awarded Carrie with a Platinum Appeal award which she was delighted to receive.
Head of Income Generation at Age UK Shropshire Telford and Wrekin, Catherine McCloy said: 'With a year without fundraising events we are so appreciative of Bridgnorth Golf Club and other fundraisers like them who have thought of innovative ways to fundraise and support older people during the pandemic. We also thank Barclays for doubling their donation by match funding their cookbook sales.'
The Gourmet Golfers Cookbook is available for just £10 plus postage and can be ordered by emailing Carrie at clees222@gmail.com. Sales of The Gourmet Golfers Cookbook will continue until the end of Carrie and Jeremy's captaincies in March 2022.