Denso staff's charity marathon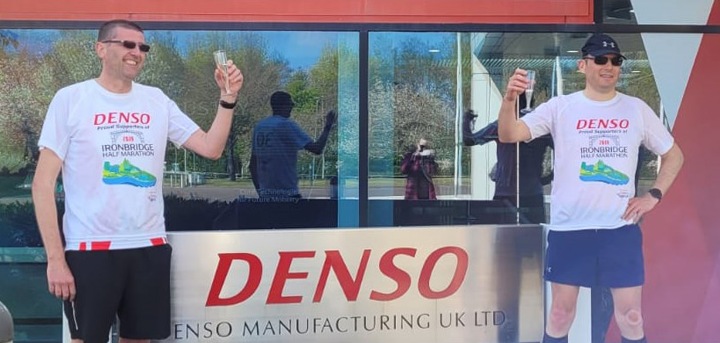 Published on 05 May 2021 12:12 PM
Simon Cope and Matt Price from Denso Manufacturing UK ran a marathon on 25 April, to support Age UK Shropshire Telford & Wrekin's work with local older people.
Simon and Matt had been training for the planned Blackpool organised event, but due to the pandemic, the marathon was cancelled. Undeterred, the two men decided to run their own marathon, which started and finished at Denso Manufacturing UK (DMUK) in Hortonwood, Telford.
DMUK has a strong ethos to support the local community in Telford and Age UK Shropshire Telford & Wrekin is the DMUK Associates Charity of Choice. Over the past three years the local company and its staff have given up their time to volunteer at events and donated thousands of pounds to help local older people.
Catherine McCloy, Head of Income Generation at Age UK Shropshire Telford & Wrekin said: 'I am so grateful to Simon and Matt for their fundraising efforts, we are very fortunate to be DMUK's Associate Charity of Choice, the staff have raised so much money to help local older people and volunteered their time at some of our events (pre-COVID-19).'
'This is our 70th birthday year but sadly we haven't been able to hold any of our fundraising events, so it's been a challenge for us to raise funds during the pandemic. This past year has been particularly difficult for so many older people, but with the help of our fundraisers we will ensure that we continue to provide support for the most vulnerable older people in our communities.'
If you would like to donate to Simon and Matt's fundraiser, go to: https://www.justgiving.com/fundraising/simon-cope2
Age UK Shropshire Telford & Wrekin would like to thank all our fundraisers, especially during these past 12 months.
If you'd like to speak to someone about the services Age UK Shropshire Telford & Wrekin offer, call us on 01743 233 123.