Get your winter vaccines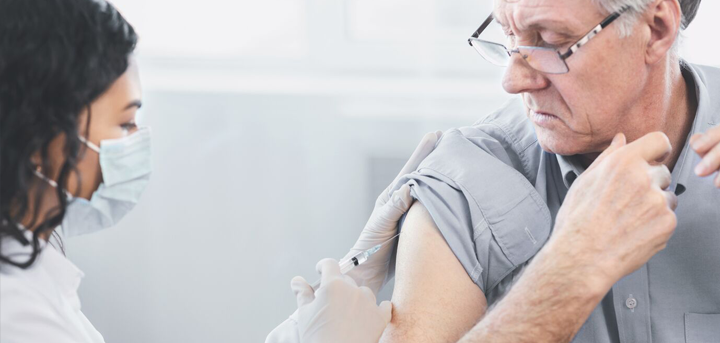 Published on 10 November 2021 10:31 AM
Wherever possible, Age UK Shropshire Telford & Wrekin is urging all older people to have both the COVID-19 booster vaccine and the flu jab this winter to help them stay fit and well.
Adults at high risk from flu are often most at risk of becoming very ill with COVID-19 too, and both can be serious illnesses. Each year on average 11,000 people in England die of flu, and in 2017/18 Public Health England estimated that the figure reached a staggering 22,000 deaths, the highest death toll in recent years.
Last year cases of flu were unusually low due to the pandemic restrictions, but experts expect flu to return as a significant risk this winter as restrictions have eased. This makes it vital that older people protect themselves by having the vaccinations that are offered to them.
Heather Osborne, Chief Executive for Age UK Shropshire Telford & Wrekin said: 'Our advice to older people is that if you only do one thing to protect your health this autumn please do take up the offer of a COVID booster and a flu jab when it comes your way. It's perfectly safe to have them together, and often more convenient too, so if that's what you are offered please do accept; you'll be doing yourself a lot of good and helping to protect everyone else you come into contact with too.'
Everyone aged 50+ is eligible for a free flu vaccine and COVID-19 booster vaccination this winter and this year it is more important than ever that people take up the offer when it comes. You need to wait six months from your second COVID-19 vaccination before you can get your booster, but you can get your flu jab at any time it is offered, and you may also be able to pop in or book it at your local pharmacy. It is also safe to get both vaccines at the same time if you are offered them.
If you'd like more information about ways to get support this winter call Age UK Shropshire Telford & Wrekin on 01743 233 123.
Further information
Related pages on our website