Jules Convenience Mega Easter raffle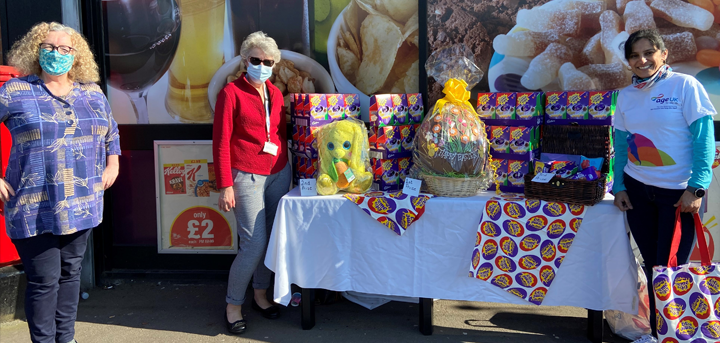 Published on 08 April 2021 02:35 PM
Jules Convenience in Hadley, Telford held a Mega Easter egg raffle with funds going to support older people in Telford.
Age UK Shropshire Telford & Wrekin's Chief Executive, Heather Osborne and Chair of Trustees, Sue Robson were in attendance to draw the winners of a huge Easter egg, a cuddly Easter bunny and a chocolate hamper. Jules Convenience also donated and hand delivered over 80 Easter eggs to the older people living at Haybridge Hall.
Heather Osborne said: 'We are delighted by the support received from Jules Convenience and the local community getting involved in fundraising and their Easter raffle. We send huge thanks to everyone who bought a raffle ticket and congratulate the winners.'
Julie from Jules Convenience aims to raise £1000 for Age UK Shropshire Telford & Wrekin in their 70th anniversary year and the raffle has already raised £650 towards this target. All the funds will go towards projects that can reduce loneliness and isolation, our dementia support services and our information and advice service.
Sue Robson said: 'With the efforts of people and businesses like Jules Convenience, Age UK Shropshire Telford & Wrekin want to celebrate 70 years supporting older people and ensure we continue supporting the most vulnerable older people for the next 70 years. A big thank you to the Hadley community for their support.'
The pandemic has had a huge impact on how we deliver vital services and the way we've supported older people during lockdown. The money raised from the raffle will make a big difference to the lives of local older people, as our staff and volunteers continue to provide support and look to restart those services that have been put on hold the past year.
For more details on Julie's fundraising efforts, visit the Jules Convenience Facebook page.