Phone friends finally meet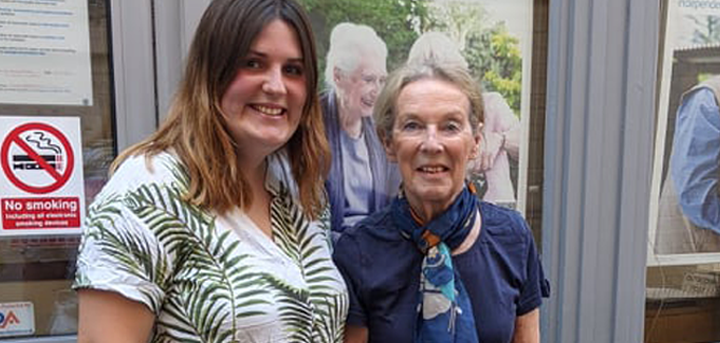 Published on 30 September 2021 10:31 AM
Last week Age UK Shropshire Telford & Wrekin staff had a surprise visit from Viv Baker and her son to introduce herself to her Let's Talk befriender and Wellbeing Services Support Officer Gina Shirley.
The two have had regular phone calls since January, providing support during lockdown but had never met in person before.
Viv was diagnosed with dementia and initially didn't want to engage in conversation, with calls not lasting more than a few minutes. However, Gina didn't give up, she was patient and spent a long time building a relationship with Viv, encouraging her to talk about when she lived in France and teaching French. The calls become longer as the months went on and they developed a great friendship, so much so that Viv just had to meet Gina in person.
Wellbeing Services Support Officer, Gina Shirley said: 'It was lovely to meet Viv in person after the past eight months of regular phone calls. Viv coming by to introduce herself really shows the importance of patience and taking the time to get to know someone. The support is invaluable for both the person living with dementia and the volunteer. I look forward to my next call with Viv.'
The Let's Talk project provides a weekly telephone call or accompanied walk for local older people living with dementia. Volunteers offer friendly and interesting conversation over the telephone for 20 minutes or more, or a regular weekly walk for companionship and exercise and to give a short respite for carers.
For more information or to become a Let's Talk volunteer call Age UK Shropshire Telford & Wrekin on 01743 233 123.
Further information
Related pages on our site