School tea party delights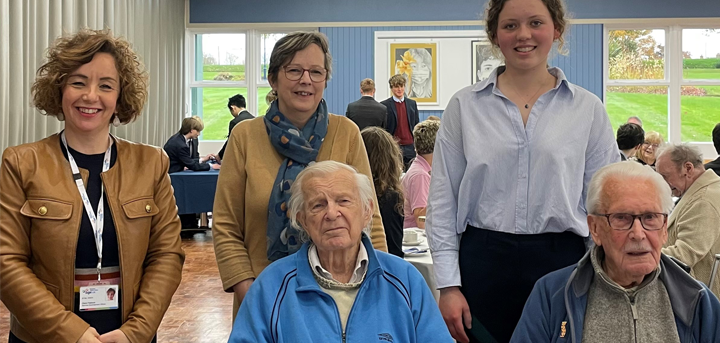 Published on 08 December 2021 12:06 PM
Older people in Shrewsbury recently enjoyed an afternoon of tea, cakes and entertainment at Shrewsbury School, thanks to a collaborative effort between a group of enterprising sixth form students and Age UK Shropshire Telford & Wrekin.
The annual event has been on hold for a while due to the pandemic, so when they could, the Global Social Leaders (GSL) team took the opportunity to organise the tea party and invite members of Age UK Shropshire Telford & Wrekin day centres to a lovely afternoon out.
Guests were treated to music from the students and a talk from The Guide Dogs for the Blind Association. The singing was exceptionally good and they sang a varied range of songs with a few Christmas ones at the end. Their performance lifted everyone's spirits and many joined in with the singing.
John Lee, a member of Greenacres day centre, said: 'It was a most enjoyable afternoon talking to some very inspirational young people.' Another member, Howard Hill said: 'They really have gone to a lot of trouble for us all.'
The GSL project aims to encourage young people across the world to develop their leadership skills in order to create action projects in their local community. Initiatives are completely student-led and organised.
Claire Fishlock, Service Development Officer for Age UK Shropshire Telford & Wrekin, said: 'It was lovely to see all the students mingling with those who attended, it brought added joy to our day centre members, especially hearing their news and sharing school stories too. The students enjoyed chatting to our members and hearing about their lives. Simply being together at a social event brought such joy to so many after last year's isolation. The students put a lot of thought and effort into making the afternoon and we thank them for such an enjoyable and sociable experience.'
You can find out more about our day centres by calling our Wellbeing team on 01743 233 123.
Further information
Related pages on our website