Volunteers win High Sheriff Award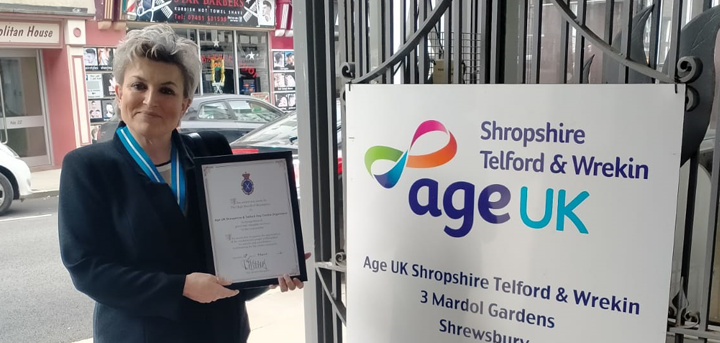 Published on 29 April 2021 11:21 AM
The volunteer organisers of Age UK Shropshire Telford & Wrekin day centres were delighted to receive a High Sheriff of Shropshire Award at a virtual event held 12 March 2021.
Delays caused by the pandemic meant the award was presented by the High Sherriff this week, rather than at the event.
The winning volunteers usually run a weekly day centre for older people in the local community, offering companionship, serving a hot two course lunch and providing entertainment such as bingo, quizzes and crafts. Some of the day centre organisers have been running day centres for nearly 30 years, working hard to give older people in Shropshire an enjoyable day out.
Day centres have been closed throughout the pandemic but volunteer organisers and their helpers have continued to offer support to their members during lockdown in many different ways: keeping morale up with regular phone calls and organising deliveries of goodie bags and afternoon teas.
The High Sheriff of Shropshire 2020-21, Mrs Dean Harris JP said: 'The High Sheriff's annual awards are given to individuals, charities, organisations, or community groups that make a real difference to the lives of others in the county and are a way of giving recognition to people whose work might not otherwise have attracted appreciation from the normal sources, our unsung heroes.'
Mrs Harris, pictured with the award, added: 'I have been overwhelmed by the number of nominations received and the amazing volunteering work and general acts of kindness and support going on, irrespective of the pandemic. It has been heartening to read about a portion of the fantastic community work being undertaken in the county; Shropshire simply wouldn't be the same without this time and effort given so willingly by so many.'
Heather Osborne, Chief Executive Age UK Shropshire Telford & Wrekin said: 'I am thrilled our volunteers have been recognised for all their hard work and dedication supporting older people in our communities. We are so grateful for everything they do, our charity would not exist without our wonderful volunteers giving up their time to help so many older people.'
'This past year has been particularly difficult for so many people and with our day centres closed during the pandemic our volunteers have gone out of their way to ensure older people continue to be supported, and for that we are eternally grateful.'
Age UK Shropshire Telford & Wrekin thank all their volunteers for the time and effort they have dedicated to supporting local older people, especially during these past 12 months. We look forward to opening day centres again as the lockdown eases.
For more information about Age UK Shropshire Telford & Wrekin day services call 01743 233 123.