Jubilee Party for older people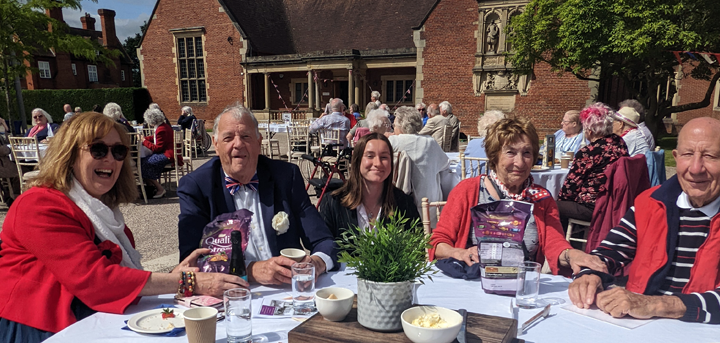 Published on 22 June 2022 12:06 PM
Shrewsbury School were delighted to host their first Jubilee tea party this month, in partnership with Age UK Shropshire Telford & Wrekin.
Over 100 local older people enjoyed a nostalgic afternoon filled with dance, art and royal memorabilia. Visitors were entertained in their very own outdoor tearoom, surrounded by Union Jack bunting and balloons, while the library hosted Mrs Nicholas' royal display and Mrs Pannet's memorabilia from the 1940s. A delicious afternoon tea, provided by Holroyd Howe, capped off the afternoon.
One guest said: 'The Platinum Jubilee event was excellent. We enjoyed the exhibition in the library and the art installation by the students, as well as the music and dancing. All of the students were so friendly and helpful and made us feel very special. We really appreciated it.'
The Shrewsbury School volunteers came out in abundance to support throughout the day. Whether setting up, clearing up or taking part in the event itself, all the students took part with vigour and positive humour.
Naomi Pritchard, Head of Volunteering for Shrewsbury School said: 'It was wonderful to see our students of all ages sitting, chatting away with the guests and sharing stories. Our students were engaged and there was a really lovely atmosphere with everyone in good spirits.'
Emma Wilde, Manager of Wellbeing Services for Age UK Shropshire Telford & Wrekin said: 'We enjoyed working with Shrewsbury School staff Stuart Cowper and Naomi Pritchard; nothing was too much trouble for them to organise, ensuring our older people had a wonderful day out. The day itself was superb with a lovely atmosphere and plenty of activities on offer to entertain people.'
'For me, the highlight of the day was watching the students interact with the older people, ensuring they had a wonderful time by chatting to them and waiting on them. It was super special to see young and old dance together too. I look forward to working with you all again. Many thanks to everyone.'
A huge thank you to all the carers and guests for coming, Age Concern Shrewsbury for providing the transport and all the organisers and staff involved from both Shrewsbury School and Age UK Shropshire Telford & Wrekin, and to the student volunteers who brought the event to life and made it a huge success.