Never too late to say I do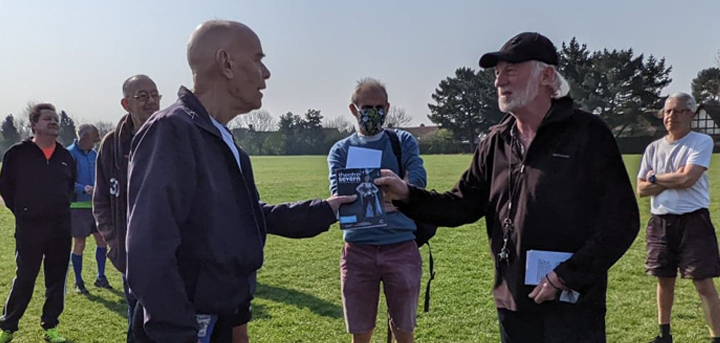 Published on 13 April 2022 11:55 AM
Shrewsbury Walking Football Club recently celebrated the wedding of their oldest player Rob Formby, who got married last month at the age of 85.
Rob has played walking football with the club for seven years and, the week before the wedding, a presentation was organised when a surprised Rob was handed a £175 Theatre Severn voucher as a wedding gift for him and his bride to be, Anne.
The club has been a long-time supporter of Age UK Shropshire Telford & Wrekin, so the charity went along to the event and gave their best wishes and a bottle of champagne to the lovely couple.
Club organiser, Graham Irish said: 'Rob is loved by everyone at the club; his determination to keep playing football and live life to the full is an example to us all.'
Day Services Support Officer for Age UK Shropshire Telford & Wrekin, Reg Lacey said: 'Congratulations to Rob and Anne on their wedding and we wish them all the best. They inspire us all and prove that age is just a number and everyone can find love again.'
For more information about Shrewsbury Walking Football Club call Age UK Shropshire Telford & Wrekin on 01743 233 123.