Later Life Goals programme, funded by the Masonic Charitable Foundation, restarts following Covid-19 pause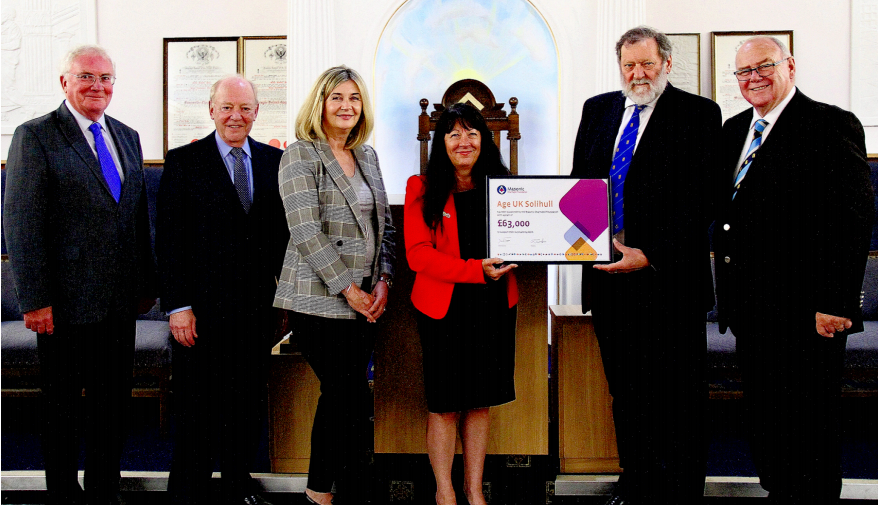 Published on 15 October 2020 11:13 AM
We are delighted that our support programme for older people, Later Life Goals, funded by the Masonic Charitable Foundation (MCF), the freemasons' charity, will be restarting in October 2020 following a seven-month pause due to Covid-19.
Hundreds of isolated older people in Solihull will be given the support and advice they need, thanks to the pioneering programme.
Focussing on the wider goals that each older person wants to achieve, rather than solely on their immediate problems, the partnership between Age UK Solihull and the MCF aims to significantly improve the circumstances and quality of life of thousands of older people, helping them plan ahead, stay connected and feel less lonely.
Later Life Goals provides one-to-one support to older people who are going through major transitions in their lives, whether this is a serious health diagnosis, bereavement, a partner going into care, or any other key event that could have a serious impact on their wellbeing.
Significant life moments like these can be triggers for older people becoming more isolated and experiencing loneliness[1]. In addition, the Covid-19 pandemic has disproportionately impacted older people and the new restrictions have made it hard for many to stay connected, especially if they live alone or have been shielding.
Thanks to Later Life Goals, older people in Solihull will continue to benefit from tailored support from specialist, trained advisors, be that information, advice or links to services or social activities.
Initially delivered face-to-face, with the majority of older people being visited by Later Life Goals advisors in their own homes, the programme will now be delivered via telephone until it is safe and compliant with government guidelines to resume home visits.
Lucy Garratt, Director of Services at Age UK Solihull, said: "We're thrilled to be able to reopen the Later Life Goals programme and are very grateful to the Masonic Charitable Foundation for their generous and ongoing support.
"The programme has already had significant impact, helping us to improve the wellbeing of older people in Solihull and the reopening means we can continue our work keeping people connected during these pivotal life moments.
"We know this year has been tough and we urge anyone who may be struggling with difficult events to get in touch with Age UK Solihull to find out how we can help them."
Freemasons have been working with Later Life Goals advisors to support older people affected by Covid-19 in recent months. Knowle Masonic Centre made donations to Age UK Solihull's emergency food bank during the pandemic, and The Provincial Grand Lodge of Warwickshire has also made financial donations to help our response to the crisis.
Keith Reynolds from Knowle Masonic Centre said: "I'm very pleased freemasonry has been able to support Age UK Solihull in helping so many isolated older people in our community. It's shameful to admit that there are many older people who never have a meaningful conversation with another human being for weeks at a time, and this situation is made even worse by the necessary isolation they face as they try and avoid Covid-19. Never has Age UK been more needed than now."
Later Life Goals is funded by a £1 million grant from the Masonic Charitable Foundation (MCF), which is funded by freemasons, their families and friends, from across England and Wales. Age UK Solihull is one of twelve local Age UKs and one Age Cymru delivering the Later Life Goals scheme, which runs over a three-year period, from October 2018 to September 2021. When the programme paused in March 2020, more than 4,600 people had already been supported.
Older people and their families or friends looking for support in Solihull can call Age UK Solihull on 0121 704 7840.
More information:
For more information about Later Life Goals visit www.ageuk.org.uk/our-impact/programmes/later-life-goals/ and https://mcf.org.uk/impact-later-life
Later Life Goals will be delivered by 12 local Age UKs and one Age Cymru, including Age UK Leeds, Age UK Blackburn with Darwen, Age UK Leicester, Shire and Rutland, Age UK Hertfordshire, Age UK North Tyneside, Age Cymru Gwent, Age UK Lindsey, Age UK Cheshire, Age UK Surrey, Age UK Bristol, Age UK Solihull, Age UK Wiltshire, and Age UK Bath and North East Somerset.
For more information on Age UK and Later Life Goals, contact Hannah Barker-Green in the Age UK Media Team on 0203 033 1430 or barker-green@ageuk.org.uk
For further information about the Masonic Charitable Foundation, please contact Guy Roberts, Press Officer on groberts@mcf.org.uk or 0203 146 3311
About the Masonic Charitable Foundation
The Masonic Charitable Foundation (MCF) is one of the largest grant-making charities in the country. Funded entirely through the generosity of Freemasons and their families, the MCF awards millions of pounds each year to local and national charities that help vulnerable people, advance medical research and provide opportunities for young people. The MCF also helps to fund vital services such as hospices and air ambulances and regularly contributes to worldwide appeals for disaster relief. In total, MCF support helps to improve the lives of thousands of people every year in England, Wales and internationally. As well as providing grants to charities, the MCF supports Freemasons and their families with a financial, health or family need. Visit www.mcf.org.uk
For further information about the Masonic Charitable Foundation, please contact Guy Roberts, Press Officer (groberts@mcf.org.uk |0203 146 3311)
[1] All the lonely people: Loneliness amongst Older People, Age UK, September 2018