Generous Rotarians help clients keep warm this Winter
Published on 25 November 2021 03:43 PM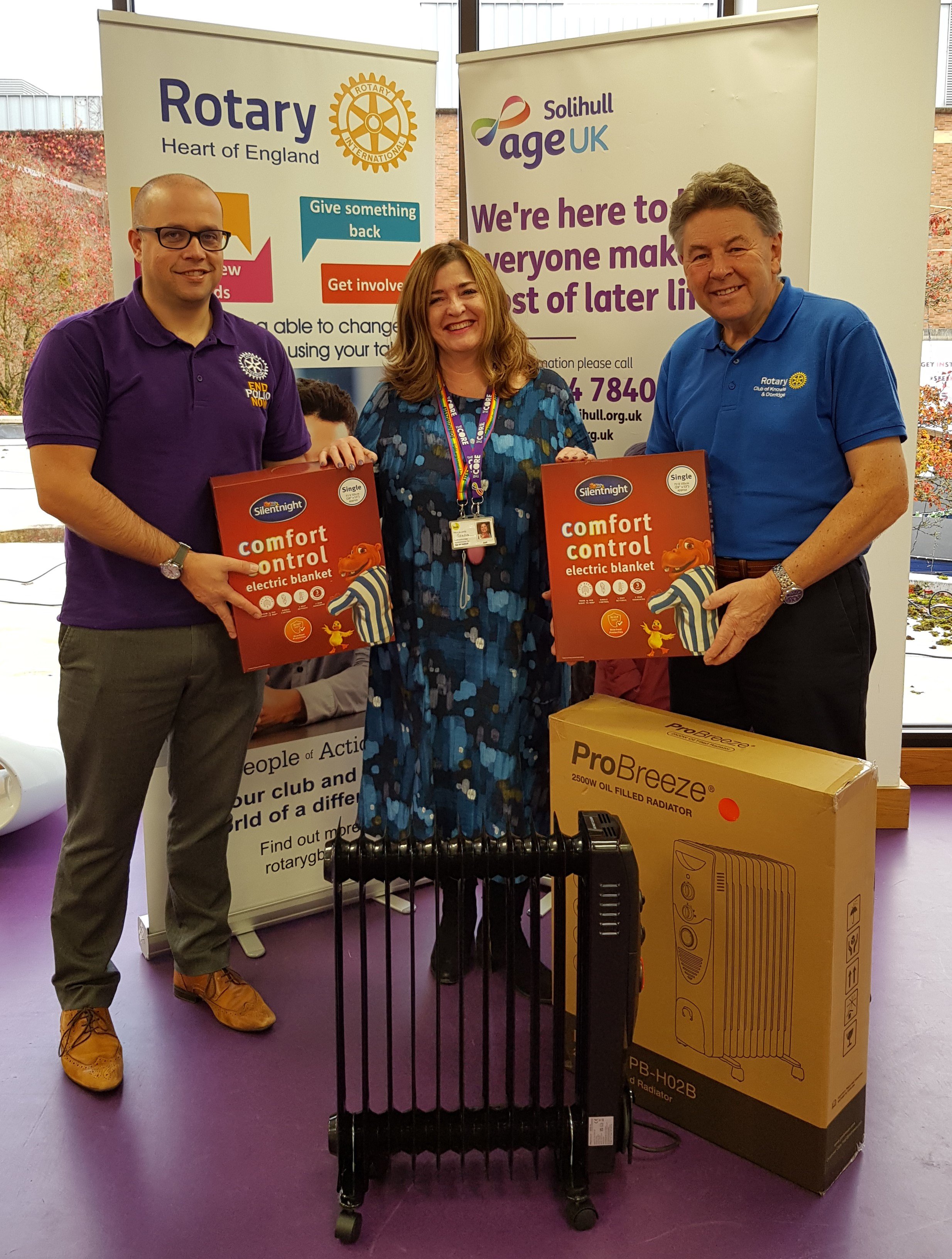 Our clients will be able to stay warm this Winter thanks to a donation of heaters and electric blankets worth over £1,000 from the Rotary Club of Knowle & Dorridge to the Winter Warmth campaign.
We have delivered The Solihull Winter Warmth Campaign on behalf of Solihull Council since 2008. The main aim of the campaign is to reduce the harmful effects of the cold on vulnerable people during the winter months.
The heaters and electric blankets donated by the Rotary Club will enable us to react quickly to emergency heating issues, helping to keep residents safe and warm throughout the coming months. Each winter, we provide over 60 electric blankets and 60 heaters and our helpline receives thousands of contacts from people needing help, not only with emergency heating situations but for switch comparisons, help with fuel debt, help using or programming a boiler and general information and advice.
Local couple, The Bradfords, benefited from the Winter Warmth programme last winter. "As winter had taken hold and with lockdown looming, our gas hot water and central heating system broke down, proving unfit for repair, and plumbers unavailable. Being senior pensioners, we were very cold. In emergency, we were recommended to contact Age UK Solihull; we did so and were referred to the Winter Warm helpline. No praise for them can be enough. Received most kindly at their centre, and, being informed that my wife suffered from Advanced Heart Failure, they recognised our problem and set to arranging for us to have the use of two electric heaters and even sorted the problem of our over-age electric blanket, which was becoming dangerous to use. We are both deeply grateful for their understanding, fast response and transport assistance which meant so much".
Teresa Baxter, Winter Warmth Manager at Age UK Solihull, says, "Cold weather can be dangerous for some residents. Older people and residents with breathing or cardiovascular illnesses are particularly at risk and therefore it is essential that people call the helpline if they are having any difficulty in staying warm. We are grateful to the Rotary Club for their generous donation, which will really help us this Winter."
Colin Winstone, President of the Rotary Club of Knowle and Dorridge, said, "With the increase in the cost of living we are seeing individuals and families having to make difficult choices as we come into the cold winter months. Keeping warm is so important and our Rotary Club members are pleased to be able to help with this important community initiative".
The Winter Warmth project runs from November to March and is open Monday to Friday, 9.00am to 5.00pm. To get in touch, call 0121 704 8080, email info@ageuksolihull.org.uk or click below.