Age UK Solihull launches programme to help older people get online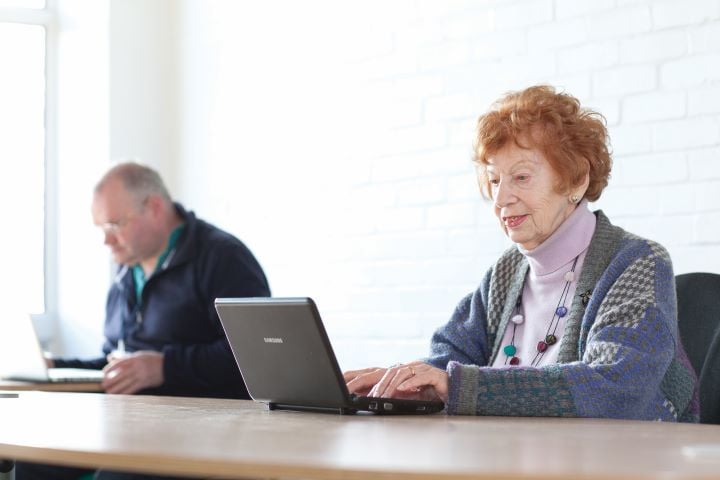 Published on 04 August 2022 12:21 PM
We have recently launched a new Digital Champion Programme to help older people in the borough who want to get online and learn how to use digital devices.
Vital services such as banking, shopping and health services have become increasingly 'digital first' since the COVID-19 pandemic. But there are more than 3 million people aged 65 and over in the UK who do not use the internet[i], meaning there is a huge risk of older people being left behind.
The scheme, which is part of a wider Age UK Digital Champion Programme being run through local Age UKs across England and Wales, will provide digital training sessions to help those older people who want to learn how to get online. The sessions will be delivered by volunteer Digital Champions who will be trained to provide digital support to others. Those who take part in the programme will also be given access to loaned technology, allowing them to build their knowledge and practice their skills.
Group sessions are being run in North and South Solihull, and one-to-one support is also available. Those who do not have their own IT equipment can benefit from the charity's tablet loan scheme. Support is free and tailored to each older person's individual needs, and can help with online shopping, video calls, searching for information, accessing online learning, and downloading and using apps.
Our Volunteer Manager, Ashlee Young, said:
"We're very excited to have launched the Age UK Digital Champion Programme here at Age UK Solihull. A lack of digital skills and access to technology means many older people in our area are missing out on essential services and the opportunity to connect with loved ones. The programme will help ensure that those who want to get online are given the skills and training in order to do so.
"We'd encourage any older person in the Solihull borough who would like to get online to contact us to find out what digital support is available to them. We're also looking for Digital Champion volunteers to deliver skills sessions to older people in their area - if you think you can help then please do get in touch."
To find out more about our Digital Champion Programme, or to sign up as a volunteer Digital Champion, please contact Ashlee Young on 07397 718 455 or ashlee.young@ageuksolihull.org.uk, or click here.
[i] Age UK analysis of Labour Force Survey Q1 2021 - These are people who have never used the internet or who have not done so within the last 3 months in early 2021