Hub's New Home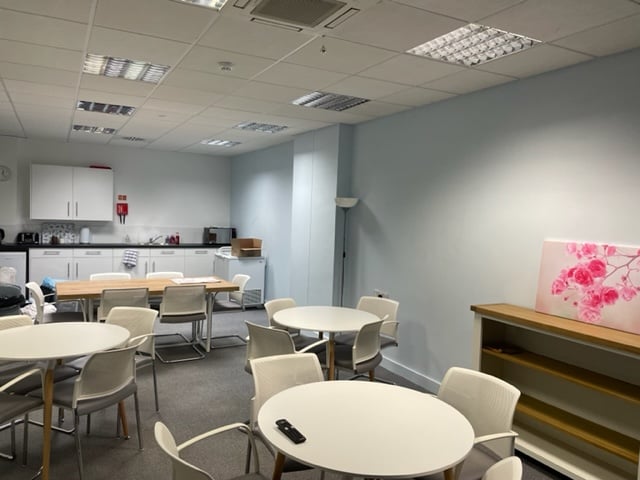 Published on 25 May 2022 11:23 AM
The Central Solihull Community Advice Hub has moved...but not far! Working with Solihull Council and the people who use our services, the decision was made to move the Hub from the first floor to the lower-ground floor of The Core (Solihull Central Library).
The space is self-contained and provides more confidentiality for our clients and additional facilities such as a dedicated self-help area where residents can be supported to use a computer or telephone.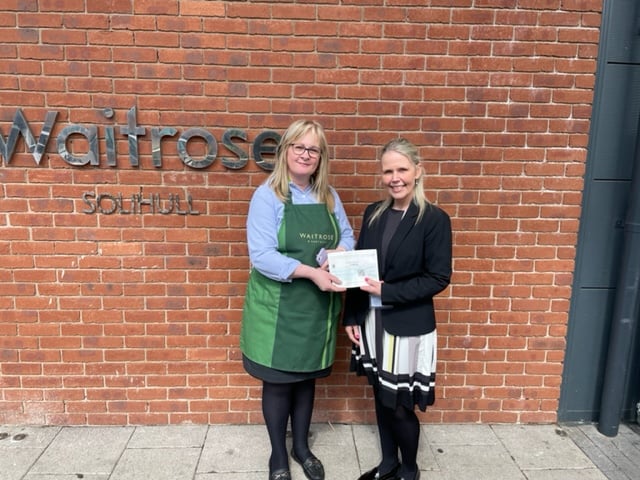 We also now have a dedicated activities & group room, complete with kitchen facilities (pictured, top). This was made possible thanks to funding from various organisations including National Grid, Waitrose, Solihull (pictured is Collette from Waitrose presenting a cheque to our PSI Manager, Angela), Marsh Insurance, Birmingham, and The Rowlands Trust.
The move brings together many members of the voluntary sector who work together under the Community Wellbeing Services including Age UK Solihull, the Solihull Lifestyle Service (Gateway CIC), CAVA and BID Services for those with sensory loss.
The Solihull Community Advice Hubs, funded by Solihull Council, provide Information, Advice and Support to Solihull residents of all ages and also provide support to carers of Solihull residents.
Lucy Garratt, our Director of Services, says, "It's really exciting to have this dedicated space with additional facilities which can be used to support Solihull residents and our local communities."
Kate Bunting, Strategic Lead for Culture at Solihull Council adds, "The Council is pleased to be able to further support our local voluntary sector and the vital work they do each day in our borough."
The Central Solihull Hub is open Monday to Friday 10am-1pm for drop-ins and 2-4pm for pre-booked appointments. The new entrance is next to the ramp that runs parallel with the entrance to Touchwood Car Park on Homer Road.
The Chelmsley Wood Hub, in Chelmsley Wood Library, is open Tuesdays and Thursdays from 10am-1pm. These opening times will be extended as the demand for face-to-face services increases.
More about the Community Advice Hubs