South Solihull Community Advice Hub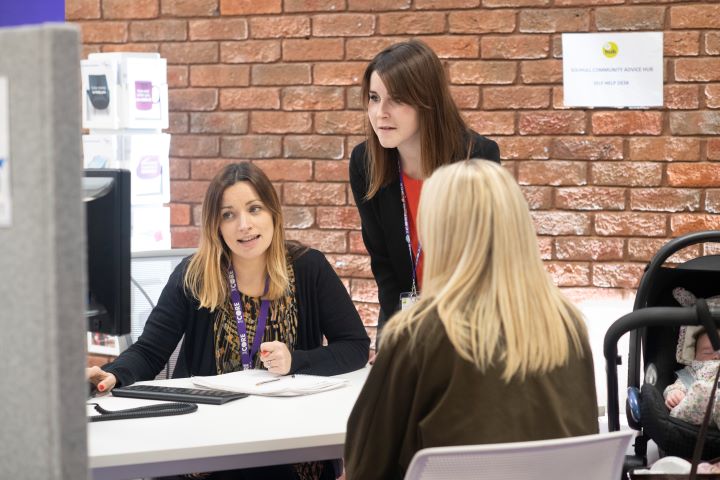 Please note, this service is not available outside Age UK Solihull - Head Office's catchment area.
Solihull Metropolitan Borough Council
Central Library
Homer Road
SOLIHULL
West Midlands
B91 3RG
United Kingdom
The Solihull Community Advice Hubs, delivered by Age UK Solihull, provide high quality information, advice and support to all residents (aged 18+) of Solihull.
About the Community Advice Hubs
The Advice Hubs bring together a wide range of voluntary sector organisations to provide you with services to meet your individual needs. The types of issues we can support with include benefits, debt, health and social care, disability, keeping warm, direct payments, being a carer. Whatever your needs are we will help you to find support.
Opening Hours for South Solihull Community Advice Hub
Drops ins: Monday - Friday 10.00am - 1.00pm

Appointments only: Monday - Friday 2.00 - 4.00pm

Please call 0121 709 7590 or email admin@solihullcommunityhub.org.uk to book appointments at either of our Hubs.

Click below for the opening hours of the North Solihull Community Advice Hub:
https://www.ageuk.org.uk/solihull/services/north-solihull-community-advice-hub-3098befd-eafc-ea11-b5da-00155d80948f/
Help with Debt and Money Problems
If you are having problems with debt or money, the Community Advice Hubs are here to help. We can help check what benefits you are entitled to, help with budgeting, refer you for help to manage your debt, and demystify the confusing language around debt management.
https://www.ageuk.org.uk/solihull/services/community-advice-hubs/more-about-the-community-advice-hubs/getting-help-with-debt-and-money-problems/
Factsheets, Guides and Local Information
We have factsheets, guides and local information available. If you're looking for a tradesperson, would like to find out about local clubs, or need details of local care homes or agencies, look no further!
https://www.ageuk.org.uk/solihull/services/information-and-advice/factsheets-guides-and-local-information/