"My Dearest Kate" play performs in Godalming to raise money for Age UK Surrey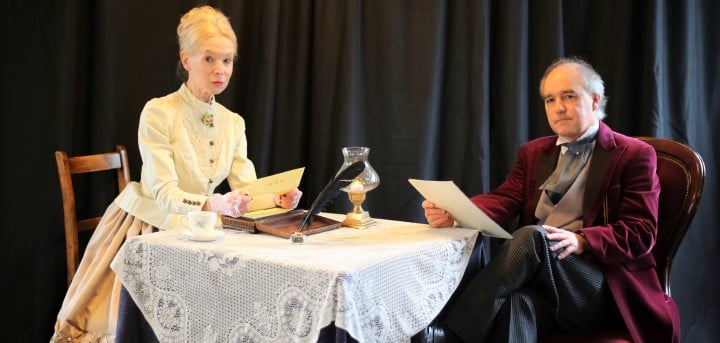 Published on 14 July 2017 12:00 AM
Age UK Surrey's first ever innovative fundraising play "My Dearest Kate" took place last Saturday (10th June) at The Wilfrid Noyce Centre, Godalming, and we are pleased to announce it was a great success – raising over £500!
The story of Charles Dickens and his wife Catherine's turbulent marriage and separation, seen though a collection of letters exchanged between herself and Charles, was the focus of "My Dearest Kate".
Originally written and performed by Ellie Dickens in 1983, as a one woman play at the Edinburgh Fringe Festival and touring throughout Britain and America. She gave her blessing and consent for My Dearest Kate to be adapted into this entertaining, dramatic 2 actor production, with moments of touching humour.
Tea, coffee and cake were available to purchase after the performance. Proceeds from the event have gone to Age UK Surrey and will help support services to improve later life for people across Surrey.
A big thank you to The Small Spaces Theatre Company, our sponsors Emery and Orchard & The Good Care Group and to everyone that made this event so successful.
Thank you to our sponsors:
The Good Care Group - Outstanding Care Provider
The Good Care Group is the UK's most awarded live in care company. It's professional approach to home care enables its clients to live well in their own homes, whilst improving health and wellbeing outcomes. They are specialists in caring for people with dementia, Parkinson's, MS, Stroke rehabilitation and providing end of life care. We also provide a Nurse led care service for people with complex needs.
Please Call: 08000 234220
Or Email: michelle.elliott@thegoodcaregroup.com Web: www.thegoodcaregroup.com
Emery & Orchard Estate Agents
Godalming's leading Independent Estate Agents specialising in the sale of residential property in Godalming and the surrounding villages.
As a private company Emery & Orchard aim to provide a friendly, efficient and professional service for people looking to buy or sell property in the Godalming and surrounding area.
Please Call: 01483 419300