Open Garden at Timber Hill in Chobham, Woking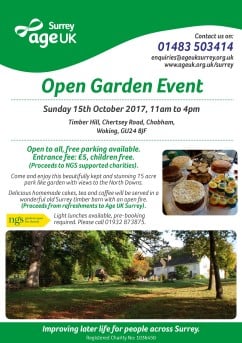 Published on 17 October 2017 11:30 AM
Timber Hill in Chobham opened up their garden this month to the general public, showcasing the magnificent grounds and raising money for Age UK Surrey and the NGS (National Garden Scheme) charities.
People were able to enjoy the beautifully kept 15 acre park-like garden with views to the North Downs on a sunny autumn day.
Homemade cakes, tea, coffee and lunches were served in a wonderful timber barn with an open fire. The Chobham Morris Dancers provided great entertainment during the early afternoon. Age UK Surrey's Men in Sheds were there showcasing their products and a member of their Information and Advice team was on hand to answer people's enquiries.
The event was a great success and Age UK Surrey raised over £900 through refreshments, lunches, donations and sale of Men in Sheds products!
Lavinia Sealy, Age UK Surrey's President said: "I am delighted to be supporting the NGS charities and Age UK Surrey, a local charity that does such excellent work to benefit older people."
We would like to say a huge thank you to everyone who gave their time to make the Timber Hill Open Garden event such a tremendous success.