Men in Sheds, Ash opens its doors to new members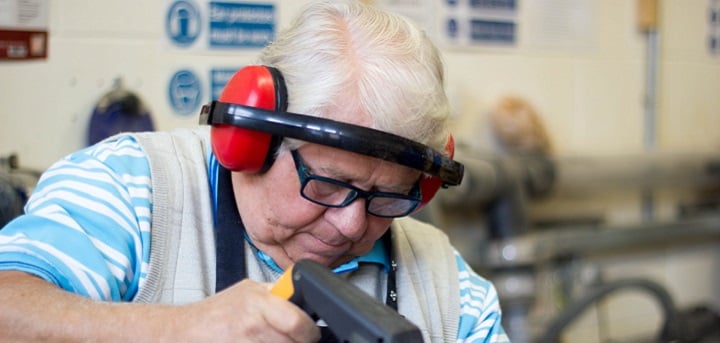 Published on 24 April 2019 12:27 PM
Men in Sheds, located in Ash, has opened its doors for two extra days, and Age UK Surrey is looking for new participants.
In an effort to combat isolation and loneliness, the community-based project brings older men together in a safe, informal and friendly environment to learn and practise DIY and woodworking skills. The well-equipped workshop includes hand tools, portable power tools and small machines.
Men in Sheds opened in 2014, and has been operating on Tuesdays and Wednesdays. It is now also open on Thursdays and Fridays. The shed welcomes participants regardless of entry skill level as everyone can take part in the joint projects and learn from each other as well as the experienced leaders.
Tony Frost, a current Men in Sheds participant, said: "I enjoy it immensely. We all get on well and have a really fun time in addition to learning new skills. I have made lots of good friends and occasionally we all have a day out together. It is now an important part of my life and it has also, in part, helped me get over the loss of my wife."
John Fairs, Men in Sheds Coordinator, Age UK Surrey said: "Men in Sheds has been a huge success, winning many awards, and we are pleased to be able to open the doors to the shed for these additional sessions. I would encourage anyone over the age of 50 with an interest in woodwork to enquire about joining us."
If you are interested in attending a Men in Sheds session, please call 01483 503414, enquiries@ageuksurrey.org.uk or visit www.ageuk.org.uk/surrey.
End of press release.