Music Making Workshops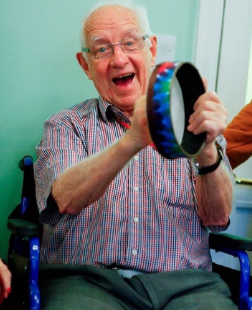 Published on 12 December 2019 09:50 PM
We have teamed up with Intergenerational Music Makers (IMM) and the Academy of Contemporary Music (ACM) and would be delighted if you would like join us for Music Making Workshops commencing on Friday 10th January 2020 between 10am – 11am at the Electric Theatre in Guildford! The sessions will run every Friday for 10 weeks: 9 weeks of co-creating music with young people from the ACM (Academy of Contemporary Music). On the 10th week a recording will be made!
There is no need to have any previous music or singing experience, the Workshops are about getting together with a mix of people of different ages and enjoying the company, music, rhythm, in fact whatever comes out of the Workshops!
It is free to participate and has come about through a partnership with IMM (Intergenerational Music Makers) and the ACM, who will be facilitating the Workshops.
The nearest car park is Bedford Road. Shopmobility is based at Bedford Road where mobility scooters can be hired if required.
To book your place please email: enquiries@ageuksurrey.org.uk
For more information about IMM: www.imm-music.com
For more information about The Electric Theatre: https//:electric.theatre