Volunteer Appreciation Week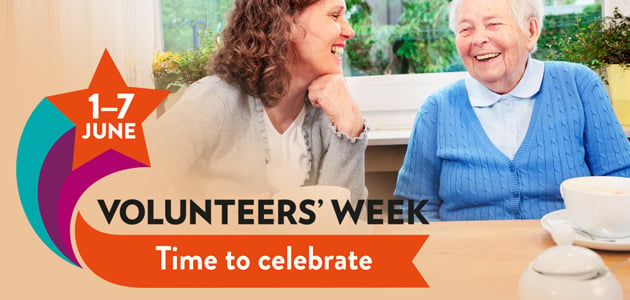 Published on 01 June 2020 04:22 PM
We are celebrating Volunteer Appreciation Week 1-7th June and want to thank each and every one of you for giving your time to our services to support so many lonely and isolated older people.
Please keep sending your stories to us
We would love to share them and show how we are all making a difference to older people.
Julie's Story:
During the Covid-19 lockdown, I felt the need to do something to help the elderly whilst I could not visit my own mother in a care home in Sussex. Others are helping her; I need to do my bit.

As an afterthought, when I signed up with Age UK Surrey as a volunteer, I added and advised that I could speak Italian and reasonable French. Surprisingly, a couple of days later I was contacted by Jean at Age UK Surrey who was looking for someone to help out with an Italian couple in Guildford who needed shopping. She found someone able to do the shopping, and just needed someone to call the couple each week, get their list and WhatsApp it over to the shopper. Easy, and I get to practise my Italian!

Well, sometimes my Italian has failed me, and sometimes the Italian gentleman (who usually does the talking) has had me in stitches with his little jokes and apologises profusely when I don't immediately figure out that Betty Crook is Betty Crocker and he wants cake mixes! And sometimes my poor shopper needs some help; it is surprising how much room for interpretation is there in a shopping list. I have learnt that as much detail as possible is really useful for getting the exact item - a description of the packaging, if they don't know the brand, for example.

I love my chats with the couple and I have had the pleasure to talk to the shoppers - they have the tough part: the queuing, the searching, the carrying. But the couple are extremely grateful and want me to convey that to the shoppers. And we all look forward to the day that we can get together for a cup of tea and a slice of cake without social distancing and get to know a little more about each other.


Our sincere thanks:
Our sincere thanks goes to each and every one of you. Thank you to our committed volunteers who supported clients right up to the day of lockdown and who have been keeping in touch with clients supported by our social activities.
Thank you to all our new and existing volunteers who have stepped forward to help with our Emergency Shopping, Prescription Collection and Check in and Chat services.
You have joined us from all over the county and from all walks of life….from teachers, to cabin crew, business people, London commuters, speech therapists, counsellors, young Mum's, retiree's, students, lecturers, hairdressers, shift workers, police officers and forces personnel.

On behalf of our clients THANK YOU!

Would you like to know more about volunteering?
Every time you lend a hand, you are helping to change the lives of older people in Surrey