#CaptainTom100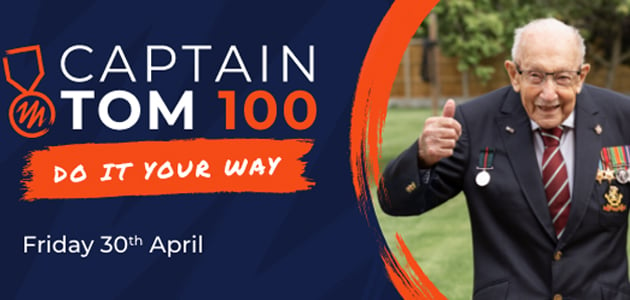 Published on 13 April 2021 12:14 PM
What's your 100?
Everyone – of all ages and abilities – is invited to take on a challenge around the number 100 anytime and anywhere over Captain Tom's birthday weekend, starting on Friday 30th April through to Bank Holiday Monday 3rd May.
That could be walking 100 steps or running 100 metres, scoring 100 goals, baking 100 cakes, climbing 100 stairs, hopping 100 laps of the garden, building 100 sandcastles, writing a 100-word poem, flipping 100 pancakes – anything at all, inside or outside.


Get involved!
It's so simple. All you need to do is dream up your Captain Tom 100, fundraise or donate to Age UK Surrey, and share your 100 on social media, using #CaptainTom100.
For more information read here.
Captain Tom 100
Remember, all you need to do is think of a challenge based around the number 100, and do it between Friday 30 April and Monday 3 May.