The Clockhouse Relaunch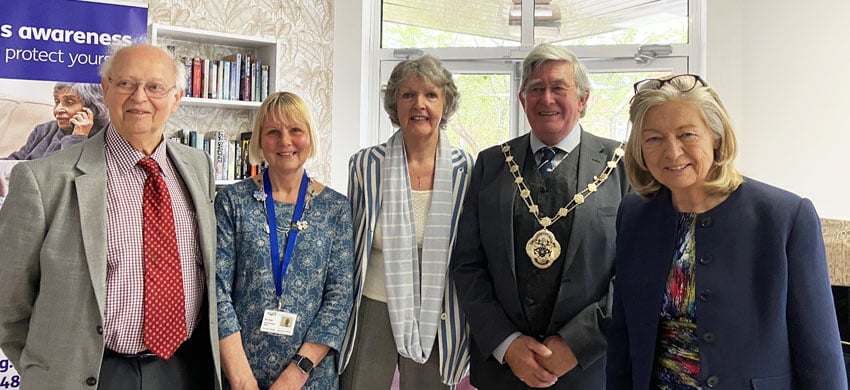 Published on 13 May 2022 09:40 AM
Relaunch of The Clockhouse as a key centre for the community.
Age UK Surrey was pleased to welcome Lady Toulson DL, Mayor of Waverley Cllr John Robini, Mayor and Mayoress of Godalming Cllr Michael Steel and Mayor of Haslemere Cllr Simon Dear, as well as local town and parish Councillors and supporter Dame Penelope Keith at The Clockhouse community centre in Milford on Tuesday 10th May for an open day of the newly refurbished building.
The Clockhouse has been a big asset for the local community in Milford since it was built over 20 years ago and the merger with Age UK Surrey at the end of last year will enable the centre to remain sustainable for the future.
Guests talked to staff and volunteers about the services and activities Age UK Surrey provides across the County and viewed the upgraded facilities including the Poppy Café which is open Monday to Friday for the public to drop in for refreshments throughout the day between 10.00am - 2.30pm. Clockhouse clients and school children from Amesbury School showed off an intergenerational art project they have worked on together over several months.
An opening speech was given by The Hon. Mrs Lavinia Sealy, DL and Age UK Surrey President who said "A third of our 232,000 residents in Surrey aged 65+ live alone and approximately 47,000 of those are people aged over 75. Combatting loneliness is often not a one solution fits all so that is why Age UK Surrey's range of services and activities are so important. We provide friendship and companionship, give advice and opportunity to join in with activities in the community. We also show people how to get online and connect not only with friends and family but also find out about the practical things too like paying bills!"
Sue Zirps - Age UK Surrey Chief Executive said " I have never really understood why we build centres purely for older people and keep them separated from others in their community. I don't believe this is healthy, communities are made up of mixed ages and differing types of people. Many studies have shown the benefits for people of all ages coming together and both benefitting. This is really important for us as there is so much intergenerational learning that can take place between young and old.
We have refurbished to widen the appeal of the centre so that we can attract younger as well as older people and be inclusive in the local community, something which we believe is vitally important. In refurbishing the Clockhouse, we were extremely fortunate to be able to work with Mark of Barnabas Fresh Start who operates a social enterprise using people who are unemployed, excluded or on probation.
We are very keen to develop the café so that the local community has a safe place to meet friends, socialise and take part in activities as well as hiring out the centre at weekends. We very much want to consult with the local community to find out what would appeal to people, what activities they might like to see and bring in new ideas".
Dame Penelope Keith spoke about her memories of The Clockhouse being built on land donated by a local business and how, as a local resident, she has been involved with supporting the centre for many years.
The Mayor of Waverley, Cllr John Robini officially opened the building.
The Clockhouse welcomes visitors Monday – Friday from 10am-3.00pm and has a wide range of activities to enjoy and make new friends. Volunteers are always needed to help support the centre.